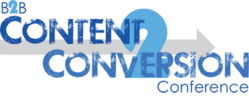 (PRWEB) April 16, 2012
As content marketing becomes an increasingly critical tool for B2B companies, DemandGen Report (DGR) is finalizing plans for the first annual Content2Conversion Conference, to be held Tuesday, April 24th at the Times Center in Manhattan. The leading industry source will host the educational conference in response to a growing need for progressive marketing — centered on using thought leadership as a connecting point for solution providers to effectively engage with prospective buyers.
"Interest in the Content2Conversion Conference has far exceeded our expectations," says Andrew Gaffney, Editor of DemandGen Report. "As the event nears, our list of prominent speakers and attendees is quickly growing, with representatives from Fortune 500 companies such as Google and American Express to venture backed start-ups in the field including Eloqua and HubSpot."
In addition to its content marketing focus, the Content2Conversion Conference also will provide a unique networking environment, as DemandGen Report welcomes a wide variety of B2B marketers working in a variety of industries. Registrants include executives from mega brands such as A&E, American Express, CBS Interactive, Google, GE Healthcare, Hess Corporation, Morgan Stanley and Pitney Bowes.
Gaffney added the need for a conference of this scope is supported by recent research showing that 9 in 10 organizations market with content, regardless of company size or industry, and navigating this trend is an evolving process. On average, marketers spend more than a quarter of their budget on content marketing, and 60% of companies plan to increase that spending.
SPEAKERS
Speakers at the Content2Conversion Conference include a who's who in the world of marketing automation. Industry expert Ardath Albee will deliver the keynote address, entitled "Starting From Scratch: 10 Steps To Launch a Content Marketing Strategy." Albee is the author of E-Marketing Strategies for the Complex Sale, and owner of Marketing Interactions, Inc., which helps B2B companies generate more sales-ready leads with e-marketing and content strategies. Albee's session will highlight the critical steps to successfully launch and maintain your content marketing strategy. The session will address the common issue of getting CMO buy-in, and how to get it; the vital need to understand your buyer; developing an editorial calendar and other key steps.
Highlights from other speakers and sessions include:
The Mobile Revolution Meets B2B: New Content Marketing Opportunities & Imperatives , Christina "CK" Kerley, Author, With 6 billion mobile subscriptions worldwide, a 200% growth rate forecast for tablet computers, and smartphones now outpacing PC sales, mobile signifies the most sweeping media of all time. This session will illuminate the B2B content marketing opportunities of a newly mobile world, highlight ideas on how marketers can leverage these exciting mobile tools and technologies while also featuring mobile imperatives for optimizing Web content across smartphones and tablets.
Content To Customer: Aligning & Automating the Delivery of Content According To Buyer From Stage Elle Woulfe, Director of Marketing Programs at Eloqua, focused on demand creation and revenue generation, will reveal during her session how content, used in conjunction with lead scoring, nurturing and other automated processes, can be used to advance the buyer's journey. Eloqua recently released a presentation titled "From Content To Customer," which highlights how marketers can use "pre-funnel" creative content and "in funnel" functional content to drive conversions.
Bringing Content Campaigns To Life: Panel of Marketing Executives Sharing Success Stories, Challenges, Julie Fajgenbaum, Vice President of Brand and Social Media for OPEN – the division of American Express that serves Small Business Owners. This session will highlight content marketing strategies from real demand generation campaigns and successes. A panel of B2B content marketers will share their blueprints for developing content for top of funnel attraction through sales enablement. Experts will share the technology and formats driving content marketing success, as well as how to leverage social media and video to provide interactive engagement.
For a complete list of speakers and topics, please click here.
SPONSORS
Innovators in the world of B2B marketing have stepped up in support of the Content2Conversion Conference, with sponsors including cutting edge companies such as:

Demandbase-a real time targeting and personalization platform for B2B marketers;
Eloqua, a provider of Revenue Performance Management solutions;
HubSpot, a provider of inbound marketing software;
KnowledgeVision- an interactive online video platform;
Manticore Technology- a provider of SaaS marketing automation; and
PRNewswire, a news and information distribution services provider.
Eloqua recently launched a "How To" presentation called "From Content to Customer," which will be highlighted during the upcoming event. "The Content2Conversion conference is focused entirely on the nexus between content and customer, which is why we are thrilled to be a sponsor," says Joe Chernov, VP Content Marketing, Eloqua. "Content isn't only the fuel that powers social media, it's also the fuel that drives the demand generation engine. The companies that are winning in their markets are those that understand today's marketing axiom: Solve for content and you'll solve for acquisition."
Other sponsors concur the time has come for a conference solely dedicated to highlighting strategies and tactics to utilize content marketing for engaging and accelerating prospects.
"With changes in buying behavior leading to more and more of their initial research being done independently of any vendor interaction, targeted and relevant content geared towards driving conversions early in the buying cycle is becoming more and more important," notes Jason Stewart, VP Marketing at Demandbase. "B2B marketers need to prioritize content strategy and dedicate resources to creation of content focused on each and every stage of the funnel."
DGR recently conducted a content marketing survey in conjunction with Manticore Technology, which found a deep connection between content and marketing automation. "Technology has allowed marketers to engage buyers in a digital conversation, identify their key business issues and progress them through their buying cycle," says Jeff Erramouspe, President of Manticore Technology. "But technology without content is useless – if marketing automation is the engine, content is the fuel. The Content2Conversion Conference will teach marketers how to tune their content marketing machine for the best possible performance."
For a complete list of event sponsors, please click here.
KILLER CONTENT AWARDS
DemandGen Report will also honor innovators in the content creation/demand generation sector with the First Annual Killer Content Awards, recognizing organizations and individuals that have raised the bar in content marketing tactics. As part of the Content2Conversion Conference, winners will be honored at an awards ceremony April 24, 2012 in New York City at The Times Center.
"Content creation has become a key way for B2B companies to provide insight on current industry trends and concerns, while spreading awareness of their solutions and services," says Andrew Gaffney, Editor, DemandGen Report. "From E-books, white papers and case studies — to blogs, newsletters and webinars — many organizations have gone the extra mile to create engaging content that relates to prospects' buying needs and company pain points. Given our unique position covering the demand generation space, we see a lot of really innovative approaches and want to help educate the community by highlighting those achievements and celebrating the success of advanced content creation and execution."
Winners will be chosen based on — but not limited to — the following criteria:
Social media/viral/targeted content marketing;
Mapping content to the buyer's journey;
Quantitative results (increased leads, sales, revenue, etc.);
Qualitative results (partnerships formed, increased interaction, etc.);
Video/interactive content;
Overall market positioning; and
Cross-channel marketing presence.
Hosted by DemandGen Report, the B2B Content2Conversion Conference is an educational daylong event focused on empowering B2B marketers with strategies for mapping, developing and utilizing content marketing to nurture the buyer relationship and enhance conversions. The event will be held Tues. April 24 in New York City at The Times Center. Click here for more information or to register.
About DemandGen Report
DemandGen Report (DGR) is a targeted e-media publication spotlighting the strategies and solutions that help Business-2-Business (B2B) companies better align sales, marketing and disparate teams to support growth and drive revenue. DGR content and news coverage focuses on the sales and marketing automation tools that enable companies to better measure and manage multichannel demand generation efforts. DemandGen Report is the only information source directly focused on this rapidly emerging business discipline.