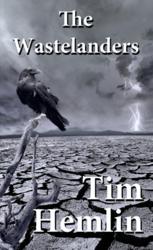 When water is scarce, a drop is more precious than gold.
Newport, Rhode Island (PRWEB) April 23, 2012
The Wastelanders has been released simultaneously in traditional paperback and e-book formats, available at the publisher's website, http://www.coolwellpress.com, as well as Amazon and Barnes and Noble.
America is in the aftermath of devastating climate change, the Great Pandemic, and the choking clutches of a corporate oligarchy known as the Water Cartel. Warrior-priest Joey Hawke finds himself trapped between a mysterious geneticist amassing a clone army and a group of political fanatics convinced that a dead president will rise from his tomb to lead them to salvation. Caught outside his spiritual haven when the Cartel moves against the Wastelanders, Joey is aided by Bear, an enigmatic weapons runner, a lovesick Scrapwoman named Moon, and Bernie Hawke, his estranged father. But against the Cartel's military strength, led by the power hungry Rex Fielder, Joey's only hope may be Si-Ting, a young woman with prescient abilities; a woman who not only holds the key to his heart but also to an American conspiracy to crown its future with the withered laurels of the past.
"I wanted to write an apocalyptic/ sci-fi novel that was character driven," says Tim Hemlin. "For me big themes—power, money, climate change, mass movements—portrayed through everyday people make a story interesting. When I began, Joey, Bear and Bernie Hawke were already well-rounded characters. What caught me off-guard was the way Si-Ting developed—her prescient powers were electrifying. There's nothing more exciting than when a story takes on a life of its own. You hit the computer each morning wondering what new twist is in store."
In The Wastelanders, the greatest comeback in political history begins in the future . . . where water is power, power transcends time, and the strength of a few individuals can alter history.
About Cool Well Press
Cool Well Press offers its readers a variety of genres including fantasy, mystery, science fiction, suspense, historicals, Young Adult, and non-fiction. Cool Well Press strives to bring you the best and brightest authors and stories that will touch your heart, open your mind, and keep you thinking long past The End. For more information, please visit Cool Well Press at http://www.coolwellpress.com. For the latest, follow @coolwellpress on Twitter.