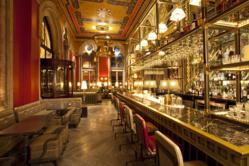 (PRWEB UK) 13 April 2012
On the evening of May 6th, the acclaimed chef, will co-host a three-hour occasion in one of the most iconic restaurants in London. The event features exquisite cocktails, intriguing taste experiments and a one-to-one personal taste consultation by Grey Goose ambassador Joe McCanta. Complete the experience by savouring The Gilbert Scott's exceptional cooking with an optional three-course roast menu.
EXPERIENCE SUMMARY

A Grey Goose Le Fizz reception
An introduction to taste with Marcus Wareing
Tantalising taste experiments
Intriguing amuse bouche
A hands-on cocktail masterclass
A one-to-one taste consultation with Joe McCanta
Your own bespoke cocktail recipe
THE VENUE
Located at St Pancras station, the gateway to France and the home of Grey Goose, The Gilbert Scott was opened in May 2011, in the breathtaking setting of the renovated St Pancras Renaissance Hotel. Named in honour of the iconic building's original architect, Sir George Gilbert Scott, the original menu offers a nostalgic array of British classics combining the inspiration of the historical surroundings with modern culinary innovation. The event will be held in the stunning surrounds of the elegant late night bar which is fast becoming the place to be seen in London due not only to its beautiful decor but also the bespoke menu of tempting cocktails that dare you to try them.
Tickets for the event can be booked through http://www.greygoosetaste.com