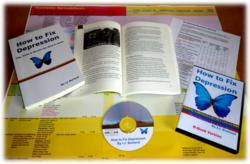 This is the book I wish I had had when I was ill.
(PRWEB UK) 16 April 2012
The book "How to Fix Depression" is unique, not only because it was written by a former sufferer, but it takes a cross-disciplinary approach to depression, and also presents exciting new scientific evidence to explain how the out-of-balance brain has the resilience to heal itself surprisingly quickly if we follow some simple health tips. This concept of Adult Brain "Neurogenesis" is still so revolutionary even some medical professionals, including specialists are not appraised of current knowledge.
When the Author, a computer engineer, experienced depression, he was frustrated by his helplessness and lack of understanding of the condition, and even came close to ending his own life - however, he set out to try to understand what might be wrong with his brain "almost as if it was a computer fault". What he discovered so astounded (and encouraged) him that he felt compelled to publish his findings. After three years of further research to verify his conclusions, he single-handedly wrote, illustrated and published the book, born out of a genuine desire to help fellow sufferers, this sincerity shines through his work.
This book explains what depression is goes on to look at causes of depression, how to determine the severity of the condition etc., and outlines conventional treatments and alternatives. It explains natural options and many helpful things, as well as some things that are unhelpful - yet we might would turn to in times of stress to "self-medicate" without realising we are only making things worse. It is also a self-help resource - a "toolkit" and includes a rich list of other information to empower the individual to understand how to manage depression and improve their chances of recovery naturally and surprisingly quickly. (Certain things, for example, can bring relief in as little as ten minutes in some cases)
Just some of the issues this book attempts to address...

What are the causes of clinical depression?
Can the brain repair itself?
What parts of the brain are physically affected by depression?
How many of us are "starved" of important brain hormones?
How is Stress related to depression?
What things make depression worse?
How do antidepressants work?
How is nutrition linked to mental health? (food & mood)
What are the statistics for lack of nutrients in the modern world?
What other simple things can help us beat depression?
Are there any "Quick Fixes" for depression?
and many more important facts.
"How to Fix Depression" is now available in paperback and published in several electronic formats including kindle, iPad and Nook. These are available through the website where there is also more information. http://www.nutrition-vs-depression.com
The website also has an audio recording of a recent Radio Interview about the book and a short video presentation about the contents. The Author has also begun delivering online presentations based on the book which have been well received and had excellent feedback. Some of these comments are listed on the website.
Ian Borland can be contacted at ianborland(at)live(dot)com or 0798 3333 539 (UK) and welcomes any interest in his work.