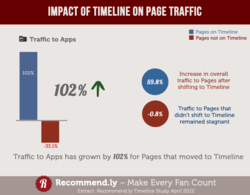 Better placement and larger thumbnails could have helped Apps on Brand Pages to get 102% more traffic
London (PRWEB) April 12, 2012
Research conducted by Recommend.ly on Facebook Page traffic volumes across a sample of 500 Facebook Pages has revealed significant changes in fan behaviour and interactions. The research was conducted across two distinct time periods; pre-Timeline and post-Timeline switch-over and represented small to medium Brand Pages, with an average fan count of 19,269.
Recommend.ly Timeline findings:

Overall fan traffic to Facebook Pages has gone up by 59.8% after shifting to Timeline
Overall Apps(Default and Custom-installed) have seen a traffic increase of 102.1%
Apps also have gained 'share of traffic', constituting 54.8% (pre-Timeline) to 69.3% (post Timeline)
Custom-installed Apps gained the most, with a massive 107% jump in traffic after a Page moved to Timeline
Increase in share of overall Page Traffic from 51.3% (pre-Timeline) to 66.6% (post-Timeline)
Default Apps for a Page such as Info, Photos, Videos, Events and Notes have seen only a modest 24.2% increase in traffic
Traffic to Photos and Videos Tabs got an uplift of 59.9%
Wildfire Director of Analytics Jordan Drewitt: "The Recommend.ly study results are in line with an engagement study Wildfire conducted on the impact of brands switching to Facebook's timeline format. Post timeline, we saw "comment" engagement improve by 40%, and "like" engagement improve by 60.3% for brands in the <1M fan count range. The increase in app traffic, uncovered in Recommend.ly's study, appears to be a key factor in the overall engagement lift we found in our own Facebook Timeline Engagement Study."
SocialAppsHQ, Rajat Garg, CEO: "Traffic to apps like 'Welcome tab' have dropped through the floor (mainly due to discontinuation of default landing tab). Contest and other tabs have however, seen a nice lift - we have seen 30% jump on existing campaigns but it's harder to quantify as there are lot more factors that can contribute to that"
Venkata Ramana, CEO Recommend.ly commented, "App makers were initially disappointed with the new Timeline design initially, since it reduced the number of apps being shown on Facebook Pages to just four in the default view. In spite of this, our research indicates a significant traffic increase, attributable to better placement, focus and larger thumbnails below the cover photo."
Ramana continued: "Pages that did not move to Timeline before the mandatory change on March 30th had seen no change in overall traffic with an insignificant drop of -0.8% in traffic Pages making extra efforts to redesign their Pages to adapt to Timeline have gained in overall traffic. There could be several reasons for this: Fans wanting to check out the new design and the attractive cover photos put up by brands, additional efforts by page owners to gain visibility to their redesigned Pages etc. Whether these early gains in page traffic continue to hold over a longer period is to be seen."
About Recommend.ly
Recommend.ly Inc. is a social media technologies innovator. The company is privately funded.