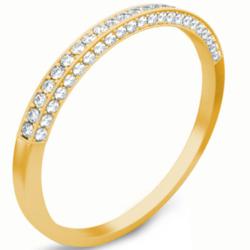 Cockeysville, MD (PRWEB) April 13, 2012
Starting at the beginning of the 19th century rose gold (or red gold or pink gold) has become increasingly popular. Originally favored in Russia, it has spread throughout western society to become the third most popular gold on the market. Rose Gold Engagement Rings are an elegant and stylish alternative to white or yellow gold wedding rings and many believe the rose color to be the most delicate in appearance.
JewelOcean has now started offering Rose Gold diamond rings, by taking copper and other alloying metals in different quantities and adding them to gold. By this process JewelOcean can now obtain various shades of red, and the resulting alloys are given names such as Red Gold, Pink Gold and Rose Gold. For the most part these names are used interchangeably, and refer to the gold-copper alloy. JewelOcean maintains Gold purity throughout the process, even though other metal alloys are added to Gold. Customers can now find rose gold rings at JewelOcean.com in 10k Rose Gold, 14k Rose Gold and 18k Rose Gold options.
The company has introduced Rose Gold Rings with many popular diamond choices such princess cut, round cut and pear shaped diamonds. Besides engagement rings, JewelOcean has also introduced beautiful collection Rose Gold Wedding Bands and Rose Gold Wedding sets. Rose Gold Rings would be particularly appealing to women who are looking for an elegant and alternate option to common jewelry option. By providing Rose Gold jewelry at cheap and affordable prices, the company now makes it possible for customers to own such an exciting alternate and save money at the same time.
JewelOcean.com is a leading online jewelry retailer, specializing in retailing diamond engagement rings at affordable and cheap prices. All purchases on the website come with guarantee certificate, with refund policy and lifetime warranty options. Customers interested in looking at rose gold jewelry should visit JewelOcean.com