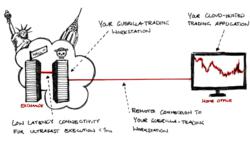 Hamburg, Germany (PRWEB) April 17, 2012
Guerilla-Trading serves traders with IT-solutions on a global scale in order to professionalize their trading. From now on, Guerilla-Trading will provide private traders with cloud-based, co-located Trading Workstations in close proximity to important financial centers like New York, Chicago, London and Hong Kong.
By adopting a cloud-based approach in trading, retail traders benefit from lower latency, improved reliability and mobility of their trading applications, which leads to better competitiveness in the financial markets. The Guerilla-Trading Workstations are capable of running various applications like trading platforms, chart software or online trading tools.
"With the ongoing rise of automated trading in the financial markets, the technological drawbacks of private traders are increasing steadily. A cloud-based Trading Workstation co-located in close proximity to major exchanges can reduce the speed-related disadvantages in trade execution remarkably", said Andreas Kleineberg, founder of Guerilla-Trading and co-writer of the Guerilla-Trading-blog.
The application of cloud-technology in the financial markets is a logical consequence of the inherent need for optimization in a competitive market environment. Institutions have already recognized the technological opportunities and began to reduce their IT costs by using cloud-based services.
Although traders invest a lot of time and money in trading equipment, software and training, they still face disadvantages to institutional market participants, who are able to benefit from technological improvements and professional IT infrastructure.
Guerilla-Trading is dedicated to give the active trader access to professional IT infrastructure and therefore provides cloud-hosted Workstation packages suitable for beginning as well as advanced and professional traders in direct proximity to various financial spots like Chicago, New York, or London. Faster order execution, lower latency, reliable trading infrastructure and minimized hardware costs are therefore no longer a privilege of institutional traders.
A cloud-hosted trading infrastructure makes perfect sense in a time when flexibility and mobility are important to many traders. A cloud-based Trading Workstation accounts for these needs, as it is accessible from any device, such as laptops, tablets or phones, anywhere and anytime.
Traders or investors interested in learning more about Guerilla-Trading's solutions can visit https://www.guerilla-trading.com for more information.
About Guerilla-Trading
Guerilla-Trading was founded in March 2012 by Andreas Kleineberg and Michael Lehner in Hamburg, Germany, with the vision to provide retail traders with access to professional trading infrastructure in order to improve their competitiveness in the financial markets.