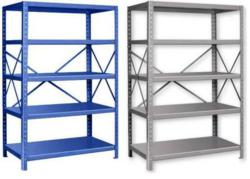 Krazy Cap Industrial Shelving is An Exciting New Line That Is A Guaranteed Winner
Boston, MA (PRWEB) April 13, 2012
It is time to get industrious with Industrial Shelving! A Plus Warehouse is introducing new items into their industrial shelving offering. The new industrial shelving is made by the same company that manufactures BigBlue storage cabinets and work benches. Quality is assured with every 'Krazy Cap' industrial shelving unit purchased. A Plus Warehouse calls them 'Krazy Cap' simply because the capacity is so crazy it called for the letter K! These shelving units have a capacity of 1,775 pounds per shelf.
When would a customer want this kind of capacity? Die handling, and automotive subassembly comes to mind. Aircraft maintenance shops use heavy duty industrial shelving as well.
There are some great features of the Krazy Cap shelving. First of all, unlike other industrial shelving, these units can be produced in almost any color! Additionally, they ship unassembled for freight savings. Most importantly, with lean manufacturing, special order can ship reliably in three weeks. According to Ed Stairman, President of A Plus Warehouse," 'Krazy Cap' Industrial Shelving is An Exciting New Line That Is Guaranteed to be A Winner". In keeping with Mr. Stairman's prediction, A Plus Warehouse would certainly offer to meet and beat any competition , but in this case , A Plus Warehouse is the sole source for quality 'Krazy Cap' shelving! The company certainly will be competitive with any offer for heavy duty industrial shelving or die racks.
Of course A Plus Warehouse offers traditional industrial shelving as well, and the lines should be reinforced. A Plus Warehouse provides the old fashioned 18,20 and 22 gauge open or closed shelving as do many materials handling dealers. A Plus Warehouse also offers the HI Tech line of box welded Hallowell Shelving that is on a more limited distribution arrangement. With the robotics employed at Hallowell List, the factory can bend and weld individual shelves, so the shelf becomes it's own superstructure. Before robotics, the simple physical concept of an integrated I beam could not easily be implemented. Although bending a shelf a few extra times, then welding a seam sounds easy – consider how much labor would be entailed per shelf! Also, steel used to be inexpensive – why worry about wasting steel by providing more thickness than required?
Times have changes, and modern lean manufacturing does allow for this innovative industrial shelving design. Another thing to mention is the concept of starters and adders. An adder is a shelving unit that adds on to a run of shelving. By ordering adders, the customer saves money, as adders have only 2 instead of 4 posts that a starter has.
A Few words on A Plus Warehouse:
A Plus Warehouse has been selling quality industrial shelving and materials handling since early 1996. Call A Plus Warehouse at 800-209-8798 to start a dialog! A Plus Warehouse encourages all readers to socialize their press released using Twitter, Facebook, Linkedin, Google+ and all others.