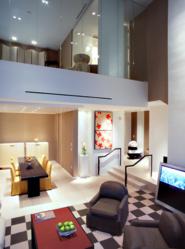 At SKYLOFTS at MGM Grand, the refined style and attentive service of a premier boutique hotel are matched with the amenities of one of Las Vegas' most impressive resorts. This award-winning five-star hotel occupies the top two floors of MGM Grand
Las Vegas, Nevada (PRWEB) April 16, 2012
As the saying goes "what happens in Vegas stays in Vegas." Most of the time that saying is true until vacationers have experience the luxurious MGM Grand Skylofts. Situated 29 floors above the city of Las Vegas, these luxury suites spare no expense.
Everything about the Skylofts exerts luxury. Luxury has been taken to the next level with the help of legendary designer Tony Chi who put a new twist on creative urban space which he redesigned to fit the dynamism and energy of Los Vegas. Whether guests are on vacation or on business, these Skylofts provide top notch amenities from a personal office, kitchen, billiard table, and an outdoor patio complete with plunge pool. Guests have a choice between one, two, or three bedroom skylofts that will fit their luxurious needs.
And if that is not enough, lavish bathrooms meant for kings and queens provides a draw dropping experience as well. Each suite of the MGM Grand is equipped with 24 foot tall floor to ceiling windows that give guests the feeling that they are on top of the world while they are over looking the city of Las Vegas.
"Perched atop the MGM Grand, high above the city below, SKYLOFTS is an exclusive haven where award winning design, sweeping views, and unparalleled personal service come together for a luxury boutique hotel experience like no other."
Read more at: mgmskylofts.com
From the moment guests walk into the sky lobby the atmosphere is like no other. An ambassador will be on stand by 24 hours a day to provide guests with limousine service or taxi as well as dinner reservations at the top restaurants in the area. The ambassador will be there to provide guests with the height of luxury.
The MGM Skylofts have taken luxury to the next level. Impeccable design and exceptional amenities like no other, the MGM Skylofts are truly giving guests the felling of being on top of the world.
Read more at: http://www.billionairesbunker.com/494/mgm-skylofts/