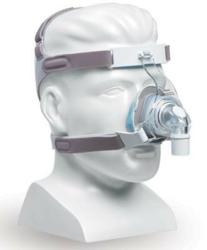 Houston, TX (PRWEB) April 12, 2012
From now till June 30, 2012 receive a rebated of $15.00 from Philips Respironics when a Respironics TrueBlue Gel Nasal CPAP Mask is purchased from Sleep Restfully, Inc.
The Philips Respironics TrueBlue gel nasal CPAP mask brings the latest technologies together in one CPAP mask. This mask sets the standard for a good night's sleep. The Philips Respironics TrueBlue gel nasal mask with Auto Seal technology is designed to deliver a higher degree of comfort, stability, and freedom of movement with minimal adjustments.
Features of the Philips Respironics TrueBlue gel nasal CPAP mask include:
1. Headgear has inlaid adjustable straps that converge into a single back panel with a crown strap for added stability.
2. Premium blue gel works together with the thin, form-fitting outer silicone membrane to create an effective, self-adjusting seal.
3. Freeform spring gives patients the ability to move in any direction. The soft silicone spring helps patients to get a better night's sleep.
4. Intuitive forehead pad is designed expressly for TrueBlue and enhanced with a soft premium blue gel.
5. Angled exhalation micro port makes operation quieter and redirects air away from a bed partner.
6. Talon clips are included, making it easy for the patient to remove the mask and lock in the same fit, night after night.
Now try the Philips Respironics TrueBlue gel nasal CPAP mask and receive a $15.00 rebate back from Philips Respironics. The list price for the TrueBlue gel nasal CPAP mask is $99.00, lowering the cost to just $84.00 after rebate. No other CPAP mask on the market comes close to the comfort the TrueBlue offers the CPAP user. This rebate is available to eligible purchasers until June 30, 2012. Sleep Restfully, Inc. will include a rebate certificate in all orders shipped prior to the rebate expiration date.
Sleep Restfully, Inc. prides itself on the high quality customer service it provides to Sleep Therapy and Oxygen customers. Their slogan, "We may not be able to match everyone's price but no one can match our service" is exemplified by their Better Business rating of "A". They carry a complete line of sleep therapy equipment and supplies by ResMed, Philips Respironics, Fisher & Paykel and other manufacturers. In addition to CPAP machines and CPAP supplies, Sleep Restfully is your portable oxygen concentrator specialist offering the best prices and support for portable oxygen concentrators such as the Respironics SimplyGo, Respironics EverGo, Sequal Eclipse 3, Inogen G2, Invacare XPO2 and more. They also sell stationary oxygen concentrators such as the Philips Respironics EverFlo and Invacare Perfecto.
In addition, Sleep Restfully stocks all replacement parts for the CPAP machines and CPAP mask as well as replacement parts for all portable oxygen concentrators.
Sleep Restfully, Inc. can be contacted toll free at (866) 923-2727, or by visiting their website sleeprestfully.com.