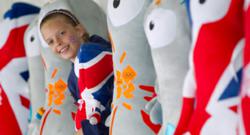 These new London 2012 shops are a great opportunity for people across the UK to show their support for the London 2012 Games and for Team GB and Paralympics GB
(PRWEB) April 12, 2012
London 2012 merchandise is now available in even more towns and cities across the UK with John Lewis launching London 2012 shops in all its full line department stores.
Twenty-seven new London 2012 shops will showcase up to 3,000 London 2012 products and give customers across the UK access to official Olympic and Paralympic merchandise.
As an official provider to the Games, the retailer has also dedicated space to London 2012 merchandise in all its 'at home' shops.
London 2012 Organising Committee (LOCOG) Chair Seb Coe said: 'These new London 2012 shops are a great opportunity for people across the UK to show their support for the London 2012 Games and for Team GB and Paralympics GB.'
'Strong sales'
In addition to the nationwide roll-out, John Lewis has also expanded the size of its Oxford Street London 2012 shop. Covering over 6,000 sq ft, the shop is currently the largest official London 2012 shop, offering customers the widest range of Olympic and Paralympic Games merchandise.
Peter Ruis, Buying and Brand Director, John Lewis said: 'We are delighted to further our support of the London 2012 Olympic and Paralympic Games with the roll-out of official shops in each of our branches.
'We have seen strong sales of merchandise in our existing London 2012 shops and with the 100 days to go milestone just around the corner, excitement towards the Games is definitely building.'
Visit the online London 2012 Shop
For further information please contact the London 2012 Press Office