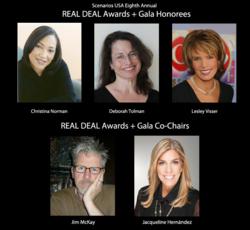 "I've tried to approach everything I do with complete and shameless devotion and relentless directness. Those are the same values I see reflected in the ... Scenarios USA programs." Christina Norman, Executive Editor for Huffington Post Black Voices
Brooklyn, NY (PRWEB) April 12, 2012
Scenarios USA is pleased to present its 2012 REAL DEAL award to leading voices in conversations that redefine the representations of young people in mainstream media and who, through their work, made important contributions to re-imagining what is possible for young people. The Awards will be presented in front of 300 leaders in business, media, education, youth development and philanthropy on Tuesday, April 24.
Scenarios USA's REAL DEAL programs are an educational initiative that creates a unique partnership between young writers and professional film directors to produce short films for national distribution. This year's honorees work at the intersection of race, class and gender to redefine these conversations.
Christina Norman, Executive Editor for Huffington Post Black Voices, is a trailblazer, dispelling stereotypes about gender, race and power through her work at Huffington Post and throughout her career in multimedia leadership. "I've tried to approach everything I do with complete and shameless devotion and relentless directness. Those are the same values I see reflected in the REAL DEAL films and throughout the Scenarios USA programs."
From the beginning Ms. Visser's career has been about creating new spaces, "when I started as a pioneering sportswriter in 1974, there were no ladies rooms - you can't get much more marginalized than that!"
Ms. Tolman leads conversations about gender and media literacy in her work at City University of New York Graduate Center and as a co-founder of SPARK Summit, a girl-fueled activist movement. "Together, [SPARK and Scenarios USA] reinforce the resonances in our missions: for young people to give voice to their rights to a society that supports their sexual health and well being," said Tolman.
Scenarios USA is also excited to announce NYC Mayor's Office of Media and Entertainment Commissioner Katherine Oliver as Honorary Chair for the event. The agency includes the Office of Film, Theatre and Broadcasting; NYC Digital; and NYC Media, the official network of the City of New York. Each week, NYC life (Channel 25), the flagship station of NYC Media, airs Scenarios USA's Spoken Word series, a collection of revealing short films written by young writers who are teamed up with renowned film directors. "Scenarios USA has provided talented and diverse young people with the opportunity to see their vision come to life on screen," said Commissioner Oliver, "It is a pleasure to be a part of the REAL DEAL Awards and continue our partnership with Scenarios USA."
Other influentials attending the Eighth Annual Awards + Gala include filmmakers Nancy Savoca and Co-Chair Jim McKay; Co-Chair Jacqueline Hernández, COO at Telemundo; and Michael Stipe of R.E.M.
WHAT: Scenarios USA REAL DEAL Awards + Gala, Edison Ballroom, 240 West 47th Street
WHEN: Tuesday, April 24, 2012, 6:00 Cocktails, 7:00 Dinner + Awards
MORE INFO: http://www.scenariosusa.org/gala2012/
###
About Scenarios USA:
Scenarios USA (http://www.scenariosusa.org) is a national non-profit organization that uses writing and film to foster youth leadership, advocacy and self-expression in students across the country, with a focus on marginalized communities. Scenarios USA believes that by valuing youth and their stories, we strengthen academic achievement, promote civic engagement, and support young people in becoming engaged citizens and healthy individuals.
About Scenarios USA Awards + Gala:
The REAL DEAL Awards + Gala is Scenarios USA's annual benefit, honoring dynamic individuals and companies whose work compliments our mission. Past Honorees have included: Telemundo Communications Group, Stefan Sonnenfeld and Missy Papageorge of Company 3, Cyril Drabinsky, President & CEO of Deluxe Labs; Debra Lee, Chief Executive Officer of BET; Lucinda Treat, Executive Vice President and General Counsel, Madison Square Garden; and filmmakers Doug Liman and David Koepp, among others.
About Christina Norman:
Ms. Norman is recognized as one of the most creative multi-platform media executives and strategists today. As Executive Editor of Huffington Post Black Voices, she is shaping the overall vision of a new medium which is providing fresh voices and a real dialogue about race, class and equality. Formerly as CEO of OWN and President at MTV and VH1, Ms. Norman created and delivered award-winning content that has defined the recent pop culture movement.
About Deborah L. Tolman:
Dr. Tolman is a premiere educator, author, researcher and advocate for gender equity. She is a professor at Hunter College and The Graduate Center at the City University of New York and Co-Founder of SPARK (Sexualization Protest: Action, Resistance, Knowledge), a girl-fueled movement to engage girls in activism to challenge the sexualization of girls. Dr. Tolman's persistent work has shifted the conversation about gender stereotypes, sexuality and young people, specifically as it relates to girls.
About Lesley Visser:
Ms. Visser is a trailblazer in the male-dominated field of sports broadcasting. She is the first and only woman enshrined into Pro Football Hall of Fame, the first female NFL analyst on TV, and the only sportscaster in history, male or female, who has worked on the Final Four, NBA Finals, World Series, Triple Crown, Monday Night Football, Olympics, Super Bowl, World Figure Skating Championships and U.S. Open network broadcasts.