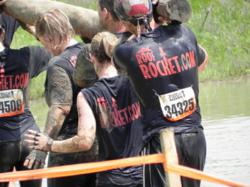 Dallas, Texas (PRWEB) April 13, 2012
RoofRocket.com online roof repair and consumer resource website sponsored a team in the Tough Mudder event on March 31st. The charity event hosted over a thousand competitors and spectators, who took on the rising temperatures to fight their way through a muddy obstacle course filled with traps, hurdles and physical challenges.
The Tough Mudder event put many challengers through a grueling 12 mile obstacle course that tests their skills, strength and mental fortitude. The event, which is held annually in cities around the world, has raised over $2.5 million dollars for the Wounded Warrior Project to date. This program provides services to men and women that have served as an active duty service member. The Wounded Warrior Project provides combat stress recovery programs, benefits counseling and helps with employment opportunities after service.
Roof Rocket was proud to have been able to sponsor Team Hog Wild in the fundraiser event in order to join the mission of supporting our troops. As a valuable information about all things related to roofing and roof repair, RoofRocket.com is committed to educating consumers about the roof repair process and providing local contacts for high quality roof contractors.