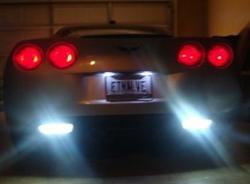 Corvette Mods' is the first HID reverse light conversion kit that is 100-percent plug-and-play.
(PRWEB) April 12, 2012
Corvette Mods this month announced its launch of an exclusive LED conversion kit that installs as a plug-and-play solution for stock C5 and C6 Corvette (97-2012) reverse lights.
This is the first LED reverse light conversion kit that is 100-percent plug-and-play. Installation is easy and takes as little as 10 minutes.
The main advantage of an LED conversion kit is its high luminous efficacy. LEDs produce a much brighter and more attractive glow than stock lights. And because LEDs are a form of solid-state lighting that is extremely efficient and long-lasting, they require less energy and produce less waste than stock light bulbs.
Corvette Mods' exclusive plug-and-play LED conversion kit is an easy way for Corvette owners to upgrade old and outdated factory yellow-colored halogen-based reverse lights that are usually dim or poor color quality, produce large amounts of heat that can melt plastic housing, and drain battery life because of high energy requirements.
LED upgrades correct these deficiencies while improving the overall aesthetics and functionality of lighting.
Corvette Mods also carries a wide array of plug-and-play LED conversion kits for interior and exterior applications in a broad range of color temperatures ranging from 4300k to 10000k, including the complete C6 Corvette 12-piece LED kit and the complete C5 13-piece LED kit. These replace the courtesy footwell lights, side marker lights (C5), rear side markers (C6), glove box lights, rear license plate lights, map lights (in C6) rear hatch light, hood light (in C6) and rearview mirror lights.
About Corvette Mods:
Corvette Mods was originally founded for the pursuit of improved lighting inside and outside of the Corvette C5 and C6 generations. Since our humble beginnings, our company has established ourselves as the leaders in the lighting upgrade market.
To learn more about Corvette Mods or LED conversion kits, or to see all the Corvette parts and accessories Corvette Mods has to offer, visit CorvetteMods.com.
CorvetteMods.com is a 3dCart Shopping Cart Software customer. You can follow Corvette Mods and get news and updates about the company and its products on Facebook and Twitter.