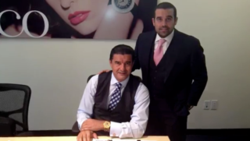 It's very exclusive and very fine
New York, NY (PRWEB) April 16, 2012
Haute Time, the ultimate resource for luxury timepiece aficionados, presents exclusive video content behind top-tier watch brands from all over the world. Haute Living Co-publisher and Haute Time curator Seth Semilof got to sit down with Jacob & Co founder Jacob Arabo for an exclusive interview to talk about the stunning watches and jewelry under the storied brand.
The first timepiece that Arabo showed Semilof was the diamond-encrusted Crystal Ice Tourbillon, one of 36 tourbillon skeleton ladies watches, which retails for an astounding $900,000. "It's very exclusive and very fine," Arabo said. "18 of them are with rose gold movement, and 18 of them are with a black rhodium movement."
Arabo also presented the exquisite Grant collection. "This is a new collection," shared Arabo. "Grant is a five time zone watch…it's a sporty watch. It's different in shape. We have great feedback on this." The line features pieces adorned in diamonds and a few muted versions as well.
The second part of the interview features an exclusive sneak preview of some of Jacob and Co's most exquisite—and some of the world's most unique—diamonds. Haute Time was lucky enough to take a look at just a few of the brand's magnificent jewelries including a very rare 54 ct diamond, a 30 ct emerald cut diamond and a blue 17 ct flawless diamond worth $10 million.
Gaining an inside look at the industry's star timepieces directly from the company CEOs demonstrates the respect and passion Haute Time reserves for luxury timepieces and their corresponding brands. Watch the interview with Arabo here and explore the many wonders of Basel World 2012 at http://www.HauteTime.com.
http://www.hautetime.com/feature/haute-time-meets-with-jacob-arabo-founder-of-the-famous-jacob-and-co
About Haute Time
Haute Time curators realize that luxury watches are more than style statements; they're representative of an individual's personality, aesthetic and attitude. The site features the most recent news in all things time, including new releases from the top brands, interviews with those helming these upscale watchmakers and a watch locator, which provides site visitors with authorized retailers nearby to them. Hautetime.com is frequently revised to reflect the latest in news, collections and brands, including Ulysse Nardin, Bell & Ross, Omega and beyond. Our experts regularly review the latest pieces and happenings in the market, including updates from Patek Philippe and Audemars Piguet.
For more information, please visit: http://www.hautetime.com