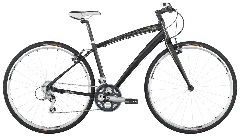 Saint Augustine, FL (PRWEB) April 25, 2012
RoadBikeOutlet has increased their product offerings to include the full DiamondBack line.
The two most popular road bike lines include the 2012 Podium series and the 2012Airén series.
In the performance hybrid line, the 2012 Clarity, 2012 Airén, and 2012 Vital are flying off the racks in the warehouse. Diamondback succinctly states, "The Clarity series fits into the Performance Hybrid category. Taking the best from both the mountain and road worlds, the Performance Hybrid combines their elements to create the ultimate machine."
Women's specific: 2012 Clarity, 2012 Airén, and the 2012 Vital. The geometry is what sets these bikes apart because these bikes are are not simply smaller men's bikes. These bike models are engineered from the ground up with the comfort, fit and style female riders require.
The 2012 Insight is a performance hybrid through and through. The insight offers a super comfortable upright geometry, and this is coupled with the road bike design making it a fast, comfortable and efficient ride.
2012 Trace The trace dual sport bike has a fantastic 700c diameter wheel set, and is made to be ridden on pavement or dirt. The price point makes is one of the most affordable dual sport bikes on the market today.
2012 Edgewood - the Edgewood's comfort suspension travel fork and 700c wheels offer the rider a super smooth comfortable ride. What sets this bike apart is the DB 6061-T6 Aluminum hybrid geometry frame with formed tubes and a replaceable derailleur hanger.
If you're having trouble deciding which bike is better for you, feel free to call the bike techs at RoadBikeOutlet.