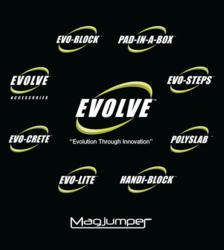 it was important our customer base could continue to count on the same reliability they always have for our Hurricane Pad line with no interruption and no sacrifice on code approval or product performance
Columbia, MD (PRWEB) April 17, 2012
Continuing with their philosophy of covering all current and anticipated customer needs, Columbia, Maryland based Evolve Composites reacted to recent changes related to building code reviews in Florida by completely revamping their repository of code documents for their popular and industry leading Hurricane Pad product families.
"Building codes are reviewed every 2 years in Florida," said Evolve's Vice President of Sales Rick Mabry "and rightfully so considering the state's geographical proximity and history of storms. It is a critical and important process and one that we at Evolve Composites embrace."
Although these code changes were officially launched on March 15th of this year, typically changes made by the Florida regulatory bodies are instituted 2 years after passage. "This was coming and we've known it since 2010, so it was important that we be prepared and take the time to ensure that our customer base could continue to count on the same reliability they always have for our Hurricane Pad line with no interruption and no sacrifice on code approval or product performance," said Mabry.
One of the significant changes to Florida building codes involved increased wind zone speeds for HVAC equipment and placement practices. Over the past two years, Evolve Composites has made any and all necessary adjustments to their pad products and new, certified engineering documents are now available on the entire line certifying that the products continue to meet code specifications.
Evolve Composites remains committed to their customers and the HVAC marketplace in Florida as they continue to manufacture pads in Florida, utilizing local manufacturing facilities and professionals all while contributing to the economy of the state and local populous. Known for setting industry trends and standards, Evolve Composites and their family of pad products are perfectly tailored for the Florida market. Included are the Evo-Crete 175mph zone pads and Evo-Slab 150mph zone pads. Also available from Evolve are custom order pads for the 180mph wind zones and beyond.
"Our Evo-Crete technology allows us to build pads at weights and densities that are necessary to meet code with absolutely no sacrifice in the performance standards that our customers have come to expect," said Mabry.
Evo-Crete technology is also used in the recently introduced Mod-Pad, a modular pad design that allows pads to be built in "modules" of 12x36x4 as opposed to full slab configurations. This allows the installer to configure the pad they need for the application at hand. By simply adding additional "modules" to the pad, the Mod-Pad becomes a custom pad perfectly suited for the specifications of that particular job.
"It is one of the most innovative concepts I've ever encountered in all of my years in the HVAC industry," said Mabry. "The Mod-Pad is installed simply by placing the desired number of modules together flush, inserting 3/8 galvanized threaded rods through the series of built in joining channels, and finally securing at the ends with galvanized or stainless steel nuts and washers. The end result is a complete pad, comprised of modules of the "Mod-Pad" that secure into the final configuration. This makes the pad completely installer friendly, lighter and easier to handle than full pads and of course much more versatile."
Engineering and testing results for the Mod-Pad at the current standards recently put into place are also available from Evolve Composites.
"Evolve Composites continues to be out in front of the technologies and issues that matter, with engineering and technical support documents and materials that are as specific and well rounded embodiments of the data needed in a document for the equipment and brands our customers choose to work with and partner with," said Mabry. "We take this responsibility quite seriously and we always will."
Evolve Composites is a Columbia, Maryland based company with manufacturing plants in Maryland, Alabama and Florida along with a national sales and marketing office and distribution point in Houston, Texas.