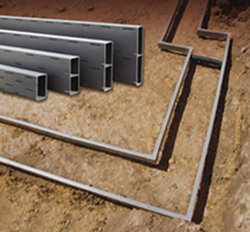 "For building professionals, Form-A-Drain provides an effective, easy-to-install forming, drainage and radon capture solution. And, for homeowners, it helps ensure a healthy indoor environment for generations to come."
Valley Forge, Pa. (PRWEB) April 13, 2012
When it comes to keeping basements safe and dry, building professionals are relying on the CertainTeed® Form-A-Drain(TM) foundation footing system. Form-A-Drain received the top ranking in regard to product familiarity and frequency of use in the 2012 Brand Use Study published by Builder magazine.
"Form-A-Drain is the highest quality, most innovative foundation footing system on the market today," said Mark DaSilva, marketing manager for the CertainTeed Foundations Group. "For building professionals, Form-A-Drain provides an effective, easy-to-install forming, drainage and radon capture solution. And, for homeowners, it helps ensure a healthy indoor environment for generations to come."
The study, conducted by Readex Research, asked building professionals to rank products based on familiarity, frequency of use and overall quality. More than 10,000 builders and general contractors contributed to the survey.
Form-A-Drain is a patented three-in-one concrete footing form system and foundation drainage system and acts as the sub-slab perimeter component of a radon venting system. Manufactured from 100 percent pre- and post-consumer polyvinyl chloride (PVC), it remains in place after the concrete is poured. Once installed, Form-A-Drain collects groundwater through multiple side vents and transports it to a sump pit or a drainage pipe going to the outside. Due to its unique design, which encloses the entire perimeter of the foundation, Form-A-Drain can be adapted for use as part of a radon venting system where needed. For more information on foundation design solutions, go to http://www.certainteedfoundations.com or http://www.certainteed.com.
About CertainTeed
Through the responsible development of innovative and sustainable building products, CertainTeed, headquartered in Valley Forge, Pa., has helped shape the building products industry for more than 100 years. Founded in 1904 as General Roofing Manufacturing Company, the firm's slogan "Quality Made Certain, Satisfaction Guaranteed," quickly inspired the name CertainTeed. Today, CertainTeed® is North America's leading brand of exterior and interior building products, including roofing, siding, fence, decking, railing, trim, foundations, pipe, insulation, gypsum, ceilings and access covers.
A subsidiary of Saint-Gobain, the world's largest building products company, CertainTeed and its affiliates have more than 6,000 employees and more than 65 manufacturing facilities throughout the United States and Canada. Recognized as a 2009 and 2010 ENERGY STAR Partner of the Year by the U.S. Environmental Protection Agency, CertainTeed earned the 2011 ENERGY STAR Sustained Excellence Award, the highest level of recognition for outstanding contributions to protecting the environment through energy efficiency. The group had total sales of approximately $3.2 billion in 2011. http://www.certainteed.com
###