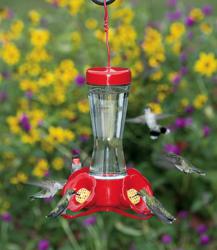 I've had my Four Flower Frolic for years--every year my hummers come back to it.--C. Agworth--Duncraft Customer
Concord, NH (PRWEB) April 19, 2012
Hummingbirds are one of the most interesting species of birds. They can hover, fly forward, backward and up and down. Not to mention their dazzling, iridescent colors. Duncraft offers these eight great tips so anyone can attract and enjoy these amazing "flying jewels" in their backyard.
When hummingbirds migrate north from South and Central America in early spring, there are few insects or flower nectar for them to eat. To attract hummingbirds, nectar feeders should be put out about a week before the hummingbirds are expected to return. Hummingbirds will feed on nectar for energy until a good supply of insects is available. Although Duncraft has a complete array of instant nectar mixes, they offer this recipe for homemade nectar: Use 1 part white table sugar to 4 parts water. Bring to a boil to remove impurities in the water and to dissolve the sugar completely. Cool before filling feeders.
Hummingbird feeders should be placed in a shady area near a shrub or tree. Hummingbirds are very territorial and will welcome a perch from which they can keep watch over "their" feeder.
Hummingbirds return to the same location each year where they know they will find a food source. Once hummingbirds have been attracted to an area, feeders should be hung in exactly the same spot each following year.
Planting flowers near a nectar feeder will increase the chance that hummingbirds will find a feeder. Tubular-shaped flowers of red or orange harbor the types of insects that hummingbirds feed on, attracting them to the area.
Because hummingbirds are very territorial, they will fight at a feeder. When this happens it is best to set up another feeder in another spot to stop the fighting. Locate it at least six feet from the first feeder.
Duncraft recommends that nectar feeders be cleaned thoroughly once a week in warm water and white vinegar to remove residue, then rinsed well. A stiff bottle brush or hand-mop is useful. Soap or detergent are not recommended.
Change the nectar solution about every 4 days, especially in high temperatures. Old solutions can ferment or produce a mold harmful to hummers. Hummers are fussy and will not come to feeders that have been neglected. They are quickly discouraged and may leave the area when they find feeders empty so keep feeders at least half full at all times.
Do not use pesticides on flowers that hummingbirds may visit for either nectar or insects.
Founded in 1952 and located in Concord, New Hampshire, Duncraft's objective is to bring the joy of backyard birding to wild bird lovers all across the country. Mike Dunn, owner and CEO is constantly inventing and searching for innovative ideas in bird feeding—giving bird lovers years of bird feeding enjoyment, success and satisfaction.
Duncraft
102 Fisherville Road
Concord, NH 03303
603-224-0200