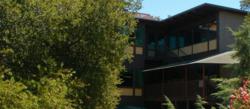 Dr. Calvin was a pioneer in civil and human rights. He refused to listen to those who opposed integration and took a stand when others were afraid.
Palo Alto, CA (PRWEB) April 12, 2012
Palo Alto University (PAU), a private, non-profit institution, announced today it is launching an annual tradition of honoring individuals in the community who have endeavored to improve lives and bring healing to the world. The University's first "Palo Alto Annual Tribute" honoree will be Allen Calvin, Ph.D. President of Palo Alto University for the past 27 years. The event takes place on Thursday, May 10th.
"The selection of Dr. Calvin was made not only for his vision and leadership during the past 27 years as President of PAU – during which he transformed a graduate school into a full-fledged university with renowned faculty," said PAU Vice President for Academic Affairs and Professor William Froming, Ph.D., "but also for his leadership in civil rights, politics, business and as dean and professor before coming to PAU."
Well-known for his passion and commitment in the area of civil rights, Dr. Calvin worked closely with Dr. Martin Luther King, Jr. He first met Dr. King through Robert L. Green, Ph.D., Dean at Michigan State University in East Lansing, where Dr. Calvin once taught. "Allen was a positive pioneer in the area of human and civil rights," said Dr. Green. "Allen refused to listen to those who opposed integration and fairness not only in the book industry, but in the society as a whole. He took a stand when others were afraid and used his influence to effect change."
In the late 1960s, Dr. Calvin worked with Ruth B. Love, Ph.D., to create an effective reading program for black students in Fayette, Mississippi when The Honorable Charles Evers was Mayor. In New York City, he worked with Rhody McCoy to create an effective decentralized school district in Brooklyn's Ocean Hill-Brownsville section. In the 1970s, he worked with PAU's Leonard Beckum, Ph.D. to bring about the integration of public schools in Arizona, Nevada, and California.
During time of war in the Middle East, Dr. Calvin and his wife, Dorothy, served as volunteers with the Israel Defense Forces (IDF). When prominent Palestinians and Israelis worked to achieve progress toward a just, peaceful settlement of the ongoing conflict, Dr. Calvin joined Stanford colleagues at the Stanford Center on International Conflict and Negotiation in support of their efforts.
In 1962, Dr. Calvin founded the first private sector company to apply the Skinner-based model of behavioral science to primary grade and high school education. The company created hundreds of Programmed Learning textbooks that used "re-enforced experiences" as a technique of teaching new subjects to youth and teens with higher retention rates over time by students when compared with traditional lockstep instruction.
As the Dean of Education at the University of San Francisco (USF) from 1974 to 1978, Dr. Calvin initiated USF's doctoral education program while doubling the School of Education's enrollment and dramatically increasing its percentage of faculty and students of color. He launched the School's multi-cultural program, the first-in-nation Masters degree in Private School Administration, and USF's first off-campus Masters and credential programs that today are part of the USF regional centers.
As president of PAU, in addition to transforming the graduate school into a full-fledged university, Dr. Calvin forged collaborative partnerships with Stanford University, Golden Gate University and the Palo Alto Veterans Health Administration at the doctoral level. He also instituted Masters level teaching in North America, China, and Argentina, and in partnership with Foothill and De Anza Colleges, pioneered Bachelors degree programs in Business Psychology and Psychology & Social Action.
"I am touched that I have been chosen as the first recipient for this award," said Dr. Calvin. "There are many outstanding individuals in our community, and I am honored to be included in their company."
For further information about the Tribute event, please write Kemper Mitchell or call 650-433-3835.
About Palo Alto University
Founded in 1975 as the Pacific Graduate School of Psychology, Palo Alto University (PAU) is dedicated to reducing suffering and improving lives through education and research in psychology, clinical training and practice in a diversity of cultures, and service to communities around the world. PAU offers classes with renowned faculty and impressive clinical training resources in seven degree programs, ranging from Bachelor level to Ph.D. The programs include a consortium with Stanford's Department of Psychiatry and Behavioral Sciences for a clinical doctorate degree (Psy. D.), and a joint program with Golden Gate University for dual J.D./Ph.D. degrees. The University's faculty is ranked among the top 25 schools and universities for research productivity out of the 166 APA-accredited clinical psychology Ph.D. programs. Through the University's own Kurt and Barbara Gronowski Clinic, PAU offers its students the integration of research and hands-on clinical practice in culturally informed assessment and treatment of mental health. As a benefit to the larger community, the Clinic offers its services regardless of the client's ability to pay. PAU also performs collaborative research and in-kind clinical services at the Dept. of Veterans Affairs facilities in San Francisco, Palo Alto and its National Center for PTSD in Menlo Park, as well as provides in-kind services at more than 60 different community agencies.