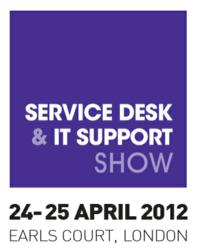 We are always impressed by the volume of people and the buzz at the show
(PRWEB) April 12, 2012
London, UK: Exhibition space for the upcoming Service Desk & IT Support Show is now almost entirely sold out. Taking place over 24-25 April at London's Earls Court, whilst this will be the show's 18th annual edition it is the first to be hosted by its new organiser Diversified Business Communications UK.
"The support from the industry this year, as always, has been fantastic. Our 2012 line-up of big name exhibitors and illustrious expert speakers has already generated a lot of positive feedback from pre-registered visitors," commented event manger Laura Venables. "I've been working on the show for five years now and it's a testament to its continuing success that, with less than two weeks to go, we're still getting significant exhibitor interest from some top ITSM providers."
Firmly established as the premier event for the UK's IT Service Management and IT support industry, the show has garnered a reputation for providing real solutions for ITSM professionals looking to improve the way they work and do business. The IT Training Zone, IT and business training suppliers Global Knowledge, worldwide BMC and ITSM resourcing specialist Aim Hire Recruitment, Autotask – the world's leading provider of hosted IT business management software, and Visionera AB, an innovative agile software company based in Stockholm, Sweden, are the latest exhibitors to have confirmed their presence at this year's Service Desk & IT Support Show.
Confirmed international participants to date include Celonis and OMNINET GmbH from Germany, USA-based ConnectWise/LabTech Software, EXIN from The Netherlands, and South African VirtuaCon. Whilst from the UK, exhibitors offering specialist training include APMG-International; FGI; itSMF UK; IT Governance; Purple Griffon; Service Desk Institute, and The Grey Matters. Global Technology Solutions, the new recruitment partner for ServiceDesk360.com, will be demonstrating its skills in service management and technical permanent/contract recruitment. Whilst systems and solutions providers showcasing their services at the show include Axios Systems; Biomni; ICCM; LANDesk Software; RMS; ServiceNow; Web Help Desk; and, one of the Service Desk & IT Support Show's founding exhibitors, Marval.
"Marval has been exhibiting its ITSM solutions at this event every year since it started 18 years ago and we are constantly surprised at the enthusiasm and desire of visitors to learn more about service management in order to improve themselves and their organisations – and find a great tool!" says Dr Don Page, Marval's CEO.
It's a view shared by many returning exhibitors, including LANDesk Software: "We always look forward to exhibiting at the Service Desk & IT Support Show," says LANDesk Software's Melanie Karunaratne. "It's 'the' must go to tier one show for the ITSM industry and we appreciate being part of it. It's such a great event at which to meet, hear and help attendees facing a number of challenges within the support world. Each year we take staff from every department – sales, support, services, and development – to promote LANDesk Service Desk on our stand. But we also actively encourage other employees to visit the event and learn from others, as well as attend some of the informative and entertaining keynotes, debates and roundtables. Whether an attendee or an exhibitor, it's well worth the investment in time and money!"
"The Service Desk & IT Support Show is an exciting event in the Certero calendar. This year's seminars provide added value for visitors who are looking for fresh ideas and advice for tackling today's challenges," adds John Lunt, managing director of leading software vendor Certero Limited.
Whilst ISL Online, SimpliSys, panintelligence, Selection, and many other first time exhibitors are looking forward to meeting and doing business with the 4,000+ ITSM professionals the show annually attracts.
"ISL Online has been going to the Service Desk & IT Support Show as visitors since 2009. We are always impressed by the volume of people and the buzz at the show," says ISL Online's director Warren Hawkins. "This year, we have decided to go full out and have our own stand and present remote desktop software. Our team are gearing up now for what is going to be a really exciting show and we are very much looking forward to seeing our customers and finding new business opportunities."
Today's announcement by Diversified UK follows news earlier this week (on 10 April 2012) that 'Service Catalogue' has been selected as this year's BACK2ITSM session for the popular Hot Topic Roundtable Discussions. Inspired by the BACK2ITSM initiative, which was introduced by Forrester analyst Stephen Mann in 2011 to encourage collaborative problem solving within the ITSM community – pre-registered visitors and the readers of ServiceDesk360.com were invited to nominate their preferred choice of BACK2ITSM topic. Taking place at 10.45am in the Hot Topic Zone on both days of the show, the two sessions will focus on the intricacies – and business benefits – of building a service catalogue.
BACK2ITSM is also the theme of an exclusive panel debate at 12.30pm on Tuesday 24 April, the first day of show. In 'The impact of emerging technologies on ITSM', panellists Stephen Mann (Forrester), Patrick Bolger (Hornbill Service Management), Howard Kendall (SDI), Rosh Hosany (AllianceBernstein) and Stuart Barkworth (The University of Sheffield), will discuss how new technologies, such as mobile devices, and social collaboration are re-shaping IT service management.
The Service Desk & IT Support Show's breadth of appeal is demonstrated by its incredible range and high calibre of prospective attendees from right across the UK's ITSM sector. The following is just a small sample of the type of organisations who have already pre-registered to visit this year: Arcadia Group Limited; Associated Newspapers; Aviva; Bank of England; Bank Of New York Mellon; BBC; BGC Partners; BNP Paribas; BP; British Airways; BT; Cable & Wireless Worldwide; Camelot UK Lotteries; Centrica; City Of London Corporation; European Investment Bank; Eurostar; Ford Motor Company; FTSE International; GCHQ; General Electric; Goldman Sachs; Gucci Group; Hewlett Packard; HSBC; IPC Media; Lastminute.com; London Stock Exchange; MET Office; NHS; Parliamentary ICT; Serco Group; Shell; Skanska UK; Skype; Société Générale; Sony Computer Entertainment; The Crown Estate; Thomson Reuters; U.S Dept Of The Treasury – IRS; WM Morrisons; Wolters Kluwer; and many UK government departments.
To view the full education programme and to register for free show entry, please visit http://www.servicedeskshow.com/register (quoting priority code SD1033). Service Desk & IT Support Show attendees will also benefit from free access to Infosecurity Europe 2012, Europe's No.1 information security event, co-located at Earls Court.
Members of relevant trade and consumer media can reserve press passes to Service Desk & IT Support Show by contacting Emma-Louise Jones at ejones@divcom.co.uk.
###
Media enquiries & press pass requests to:
Emma-Louise Jones, PR Manager
t: +44 (0)1273 645134 e: ejones (at) divcom (dot) co.uk http://www.twitter.com/DiversifiedUK
SDITS exhibitor enquiries to:
Laura Venables, Event Manager
t: +44 (0)1273 645138 e: lvenables (at) divcom (dot) co.uk http://www.twitter.com/SDITS
Notes:

Diversified Business Communications UK Ltd (Diversified UK) is a fast growing trade event organiser and publisher based in Brighton. In addition to the Service Desk & IT Support Show, Diversified UK's portfolio includes Natural & Organic Products Europe, Natural Products Scandinavia, lunch!, camexpo, office*, office INTERIORS, Natural Products magazine and the Natural Beauty Yearbook. http://www.divcom.co.uk
Diversified UK is part of Diversified Business Communications, a leading international media company with a successful portfolio of sector leading exhibition, conferences, publications and websites.