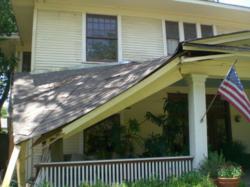 Dallas, TX (PRWEB) April 16, 2012
A total of 17 tornadoes touched down on April 3rd in Texas' Dallas/Fort Worth region. Significant damages were caused by tornadoes and baseball-sized hail to thousands of homes across the DFW metroplex. The Governor of Texas issued a disaster declaration for the counties of Dallas, Kaufman, and Tarrant.
"The storms that hit the Dallas/Fort Worth area on April 3rd were devastating to many homeowners," Jorge Abreu, President of JNT Developers, said. "Some of the tornadoes and hail that hit completely destroyed thousands of properties."
April is known for its spring weather. Being part of tornado alley, the probability of a roof being damaged in Texas is greater during this often violent season. When a tornado comes through, the damage done can range from shingles blown off to an entire roof separated from a building. The outcome can be extremely detrimental, and it could lead to more problems associated with the home or business on which the harsh environment has taken its toll.
According to Dallas roofing company JNT Developers, taking immediate action prior to roof repair will help prevent any additional damages and keep the insurance claims process fast and accurate.
While dealing with the insurance and before the fixture process, homeowners are encouraged to temporarily protect their roofs to prevent any further damage caused by rain. Insurance companies propose steps to take once damage has hit your home. Until roofing services are provided, it is suggested to do the following:

Protect family during this time.
Report losses by contacting an agent directly, or by calling or reporting a claim online.
Guard property from additional damages.
Begin a room-by-room written inventory of the damages, including a detailed description of personal items that includes the manufacturer's names, model numbers, purchase dates and purchase prices.