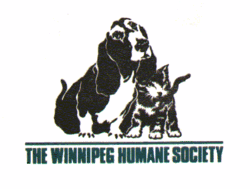 Buy This Item and Help The WHS!
Winnipeg, Manitoba (PRWEB) April 12, 2012
The Winnipeg Humane Society (WHS) and Winnipeg Canadian Tire stores have created a partnership for the public to help purchase regular day to day items for the city's largest animal adoption shelter. Starting Saturday, April 14, Canadian Tire will become a one-stop shop for items the WHS needs on a daily basis.
Based on The Winnipeg Humane Society's "Wish List" (found at winnipeghumanesocity.ca), shelf-talker cards will be placed on store shelves in Winnipeg Canadian Tire stores. The blue and white card states, "Buy This Item and Help The WHS". Once a shopper reads the item printed on the card, all they need to do to help is purchase the item at a store checkout and let the checkout person know it's intended for The Winnipeg Humane Society. The item will then be taken to customer service by a store employee, or the shopper will be directed to a bin near the exit door (each location may differ).
"We tested a similar idea with our Facebook group," says Bill McDonald, CEO of The WHS. "We asked our supporters to help us out by purchasing a few electronic weigh scales. These help our foster families accurately keep track of a foster kitten's weight as they grow. After a few days we had 15 new scales."
The WHS also uses a minimum of two large jugs of laundry detergent each week. Seven days a week, from early morning to late at night, three sets of washers and dryers continually run to clean pillows, blankets, toys, and animal supplies for hundreds of animals. Local store managers at Canadian Tire knew they could help; for 90 years, Canadian Tire has been providing solutions for the jobs of everyday life.
"Canadian Tire is proud to partner with The Winnipeg Humane Society to support animals in need with this unique program," says Todd Petreman, Controller with Canadian Tire on Kenaston. "Canadian Tire is a one-stop shop for all of our pet owners' needs, and this partnership is a natural fit. Starting April 14, we strongly encourage all of our customers to help an animal in need by gifting an item to the WHS from our wide assortment of pet products ranging from bones, beds, toys, leashes, collars, bowls and more."
If you want to help, visit your nearby Winnipeg Canadian Tire and purchase an item indicated by a WHS shelf-talker card. The "Everyday Items" promotion is ongoing and begins Saturday, April 14.
About The Winnipeg Humane Society
The Winnipeg Humane Society was founded in 1894 and has grown into the largest and most experienced animal welfare organization in Manitoba. Nearly 9,000 animals enter its shelter each year and are cared for by devoted staff and hundreds of volunteers. The Winnipeg Humane Society offers an extensive list of programs and services that contribute to its mission of protecting animals from suffering and promoting their welfare and dignity. The Winnipeg Humane Society strives to remain at the forefront of animal welfare throughout Manitoba.
For more information, please contact:
Greg Berg
Community Outreach Coordinator
The Winnipeg Humane Society
Phone: 982-2033
Email: gregb(at)winnipeghumanesociety(dot)ca