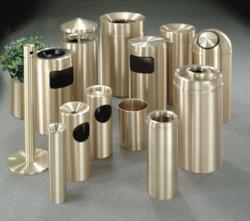 Glaro continues to serve as the leading quick ship source for all receptacle products in demand by facilities managers across the USA, Canada, and Latin America.
Hauppauge, NY (PRWEB) April 19, 2012
USA waste receptacles manufacturer Glaro Inc., a company that has focused its operations in solving many types of problems for building owners, managers, and purchasing agents, as well as designers and architects, continues to develop extensive collections of products with matching finishes fit for both indoor and outdoor use and makes them available for shipment within a few days.
Product lines include diversified waste receptacle products such as the popular New York Satin Aluminum Collection and the new Half Round Trash Receptacles. The receptacle lines also include several lines of recycling receptacles and stations as well as smokers' posts. A suitable receptacle for every part of a building is available quickly.
Designs and finishes have been developed to satisfy the preferences of customers, no matter how diverse their individual needs. Customization options such as branding waste receptacles with a company logo and messaging also help to personalize receptacles. They are a favorite of janitorial maintenance staff as well because the finishes conceal smudges, streaking and soiling. They are quick and easy to wipe clean with environmentally safe non caustic cleaners. In addition, all metal receptacles are fire safe and many meet ADA requirements.
"Finishes are available that coordinate with old world, art deco and modernistic design themes" commented Robert Betensky, Executive Vice President. "Whether it is waste receptacles, cigarette receptacles or any Glaro products, we make sure that customers receive high quality products that last, look attractive, and ship fast. Since everything is made here in the USA, we are in control of all aspects of our business from the product down to our shipping. The result is higher value."
About Glaro: Glaro, Inc. (glaro.com) is a leading USA manufacturer of commercial and consumer aluminum products sold through dealers for close to 70 years. All products ship in 1 to 3 days. Glaro products are the result of a focus on thoughtful innovation and design. Product lines include bellman carts, waste receptacles, recycling receptacles, cigarette posts and receptacles, crowd control posts and systems, sign frames, and directories, coat hanging equipment, umbrella stands, planters, and key drop boxes. A diverse selection of models in 31 finishes is produced in the Hauppauge, New York plant by skilled Glaro craftsmen. The company is known for its quality merchandise and its ability to consistently quick ship all products. The customer service department provides unusually prompt personal service and is sensitive to the needs of dealers.