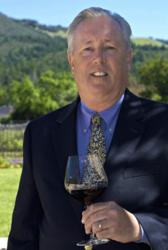 Our focus will be to expand Benovia's distribution so many more customers can be introduced to these fantastic wines."
Santa Rosa, California (PRWEB) April 14, 2012
Benovia Winery in the Russian River Valley has tapped wine business veteran Robert "Bob" Cooley to head up the sales and marketing of the California wine producer's handcrafted Pinot Noir, Chardonnay, and Zinfandel wines, according to Benovia Co-owner, Winemaker and General Manager Mike Sullivan.
Mr. Cooley had held the same position at Landmark Vineyards, working with Mike and Mary Colhoun in nearby Kenwood, CA, for 18 years until the winery was sold in August last year. Mr. Cooley is also a managing partner of Grape Ventures LLC, a 20-acre chardonnay vineyard in Potter Valley.
Mr. Cooley is a sixth-generation Californian who took summers off from his agriculture studies at California Polytechnic State University/San Luis Obispo in the 1970s to help out at the family's winery, Hacienda Wine Cellars in the Sonoma Valley. The part-time work became a full-time position after Mr. Cooley was graduated from Cal Poly.
"Bob was practically born into the wine business so he knows every aspect of it inside and out," says Benovia's Mike Sullivan. "He's built national and international networks of wine distributors and has an exceptional record of growing sales and building key relationships. It's been a pleasure working with Bob as a consultant to us for the past few months. Now we're looking forward to all the great things he'll have a hand in here at the winery as an official member of the Benovia family."
Mr. Cooley brings decades of experience in the wine business to Benovia, having handled such varied tasks as managing sales and distribution, developing second wine labels, sitting on tasting panels, working in wine production, and even representing Pinot Noir growers at expos in the U.S. as well as Europe.
At Benovia, Mr. Cooley will be responsible for expanding the distribution of Benovia Wines to fine restaurants and other resellers, as well as overseeing Benovia's highly successful direct to consumer sales efforts.
"Benovia is an exceptional winery with a very talented winemaker that has a lot of growth potential ahead of it," says Mr. Cooley. "Joe Anderson and Mary Dewane (Benovia's patrons) fully committed themselves to developing new vineyards in a world-class location that are now paying off with grapes for some truly outstanding estate wines. Our focus moving forward is to really hone in on our niche and own it, promote Benovia Wines' extraordinary quality, and methodically expand Benovia's distribution so many more customers can be introduced to these fantastic wines."
Mr. Cooley lives with his wife and five children in Penngrove, CA, at the foot of Sonoma Mountain. While Mr. Cooley enjoys fishing and trap shooting in his spare time, the hobby he is most passionate about is raising, riding and showing cutting horses, a sport he has participated in since childhood, with a number of world champion awards to his credit.
ABOUT BENOVIA
Founded by husband and wife team Joe Anderson and Mary Dewane, and joined by winemaker partner Mike Sullivan, Benovia Winery farms more than 72 acres of Pinot Noir, Chardonnay, and Zinfandel from estate vineyards in the Russian River Valley and Sonoma County. The name of the winery is derived from Joe and Mary's fathers' names, Novian Anderson and Ben Dewane. Established in 2005, Benovia's mission is to create iconic and thought-provoking "Grand Cru quality" Pinot Noir, Chardonnay and Zinfandel handcrafted wines. Benovia wines are sold through an allocation system direct to customers, as well as distributed to select restaurants nationwide. Total production for the current release (2010 vintage) is approximately 4,000 cases. Winery tastings and tours are available daily by appointment only. Benovia Winery, 3339 Hartman Road, Santa Rosa, CA 95401. (707) 526-4441. http://www.BenoviaWinery.com