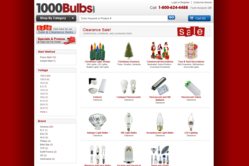 Our everyday prices on popular products like 60 watt equal CFLs are often lower than our competitors' sale prices.
Garland, TX (PRWEB) April 20, 2012
Sticking to their motto, "Changing the way the world buys light bulbs," 1000Bulbs.com has added a new layer to its customer-oriented competitive pricing structure. In partnership with several Dallas-area vendors, the Internet lighting retailer has made it a point to procure closeout, energy-efficient lighting products offered at bargain basement prices to 1000Bulbs.com customers.
These products, which range from light fixtures to LED light bulbs, feature cut-rate prices and are featured on the 1000Bulbs.com website under a Clearance and Daily Deals section. The Clearance section currently houses nearly 100 products, including compact fluorescents, light fixtures, ballasts, Christmas lights, and more. Specific offerings include a $7.99 LED light bulb from Toshiba and a $1.30 CFL light bulb from Energy Miser.
Despite newly discounted prices, 1000Bulbs.com assures customers the closeout products are still the highest possible quality and are not refurbished or "knock-off" lighting products. Instead, the products are typically overstock items from a variety of well-known retailers. Other sources include 1000Bulbs.com's own overstock, though this makes up a considerably smaller portion of the overall offering.
Though discontinued models and overstocks may represent many of the bargains, marketing director Jeremy Foster assures the products are more than up-to-date. "Lighting technology is rapidly changing, so when older inventory is replaced, we take advantage of closeout prices and pass the savings on to customers. This means our everyday prices on popular products like 60 watt equal CFLs are often lower than our competitors' sale prices," says Foster.
Though the majority of the closeout products are energy-saving, "green" light bulbs and accessories, the closeouts also include some traditional technologies, many of which will be difficult for consumers to find after this year's light bulb phase-outs. These include 100 watt incandescent light bulbs and Halogen PAR bulbs. Though manufacturers are required by law to cease production of these bulbs, retailers can still sell existing inventory, an opportunity of which 1000Bulbs.com plans to take full advantage.
About 1000Bulbs.com:
1000Bulbs.com is an award-winning Internet-based lighting retailer. The company offers everything from simple, household light bulbs to cutting-edge specialty lighting systems. Nationally recognized for growth, innovation, and customer satisfaction, 1000Bulbs.com is an influential force in the lighting industry.