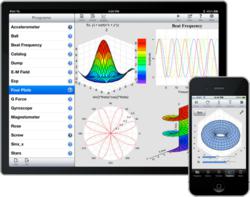 I found the process to be fast, simple and rewarding.
MIke Riley, Dr. Dobb's
Albuquerque, NM (PRWEB) April 16, 2012
techBASIC 1.0, a multi-purpose STEM app for the iPad and iPhone, received 5 stars on the Apple App Store. techBASIC 2.0's enhancements for programming, scientific computing and graphing make it the most powerful STEM app available on the market today.
Among the key features in techBASIC:

New GUI controls make it easy for students to create beautiful interactive programs. And, because it's the BASIC programming language, it's the perfect platform for students to learn to program.
techBASIC 2.0 is perfect for algebra, geometry or calculus, with its numerous coordinate systems and plotting options like 2D and 3D Cartesian coordinates, polar, cylindrical and spherical coordinates, and vector plots.
Combining powerful scientific graphing with iOS touch controls helps math comes alive. Students can make a torus degenerate into a sphere, or interact with functions and data real time using swipe and pinch gestures.
Physics and general science students can discover force and rotation at the amusement park, or by flying an iPhone on a stunt kite, collecting data from sensors built right into the iPhone and iPad.
Students get a first-hand look at interstellar space with the Stars sample, which shows the rotation of the stars within 10 parsecs of the Sun, or get a feel for how currents create magnetic fields with the sample that shows how a magnetic field varies as current changes in two wires. It's easy for teachers or high-school students to modify techBASIC samples or create new programs of their own.
Students and hobbyists get first-hand experience with electricity and magnetism using the magnetometer sample that turns an iPhone into a metal detector.
Many samples are included with techBASIC, and the Byte Works website includes a growing collection of projects, Quick Start Guides and a Reference Manual with dozens of complete working sample programs.
techBASIC Requirements:
iPhone, iPod touch or iPad running iOS 5 or later
Pricing and Availability
techBASIC 2.0 is $14.99 (USD) and is available worldwide in the App Store Utilities category.
The Byte Works has been creating quality "apps for people who think™" since 1982. Current directions include apps for scientific programming, calculators and astronomy programs for iOS. Past efforts include developing Apple Programmers Workshop and the award winning ORCA line of compilers for the Apple IIGS, the HyperLogo™ scripting language for HyperStudio™, and MediaBlender™, a multimedia authoring tool for education.