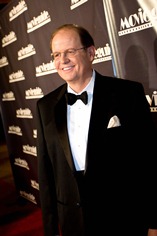 Faith entertainment makes more money then secular content.
Hollywood, CA (PRWEB) April 12, 2012
Dr. Ted Baehr, founder and publisher of Movieguide(R) will be on hand at the National Association of Broadcasters's 168 "Faith 'n' Film Summit" scheduled for April 15 in Las Vegas. Joining Dr. Baehr will be actors Corbin Bernsen and Kevin Sorbo along with comedian Michael, Jr.
"It's like the Movieguide(R) Awards Gala all over again. Corbin was one of our presenters this year, Kevin hosted the Gala last year, and Michael hosted a few years back. With top talent like this, I'm looking forward to this Summit," says Dr. Baehr.
The NAB show is the world's largest electronic media show covering filmed entertainment and the development, management and delivery of content across all mediums. This year boasts of 90,000 attendees from 151 countries and 1,500+ exhibitors. At the NAB show, the Summit is filled with speakers, workshops, panels and screenings. Dr. Baehr is giving a keynote plenary speech on the state of the soul of the entertainment industry which promises to be a sought after event. Information on the Summit can be found at movieguide.org/nab.
The Summit is sponsored by the 168 Film Project, a unique film competition where producers have 168 hours (1 week) to film and edit an 11-minute movie based on a theme and a Bible verse. Cobrin Bernsen will schedule his latest film that he directed, 25 HILL, a story about a 12-year-old boy whose Soap Box Car Derby dreams are threatened when his father is sent to war in Afghanistan. This movie was nominated for a Movieguide(R) Award at this year's Movieguide(R) Gala.
For an interview with Dr. Ted Baehr, please contact Tahlia at 1-888-248-6689 or pr(at)movieguide(dot)org