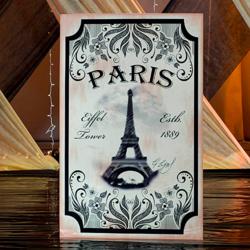 South Whitley, Indiana (PRWEB) April 13, 2012
"With more than 6,800 record-high, daily temperatures throughout the United States last month, early interest in romantic parties like vintage, Paris theme parties is blooming," says Jacquie Downey, Director of Sales and Marketing at Shindigz, a leading, national party decorations company.
Classic Parisian Design Elements Stir Emotions
The romance and international flair of Paris combined with antique styling or vintage tinting is especially popular with party planners and hosts this year.
"The classic charm and romance of spring is brought to life by a Springtime in Paris theme. Vintage Paris props like personalized arches, the Eiffel Tower, and old-time, bicycle standees give party planners beautiful foundations for unique events. Parisian themed proms, wedding receptions, and Quinceañera celebrations are popular this year." adds Downey.
Scannable QR codes on selected décor items deliver live images of the Eiffel Tower or other Paris-related information to smart phones. Downey suggests, "When planners combine vintage Paris elements with modern technology, guests remember the event for years to come."
About Shindigz
Since 1926, Shindigz has "made life more fun" for 22 million events through the manufacture and sale of personalized party supplies. It ships products from its facilities in South Whitley, Indiana across the United States and around the world to 59 countries. With more than 36,000 products, it provides customers with a complete party solution. For more Paris parties ideas, go to Shindigz.com.