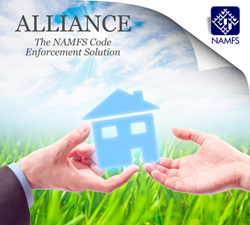 NAMFS is committed to uniting the industry through open dialogue. A key component of which is participation in industry events and panels to discuss collaborative and innovative solutions.
~ Eric S. Miller, Executive Director
Stow, Ohio (PRWEB) April 17, 2012
On April 25, the National Association of Mortgage Field Services (NAMFS) will be participating as a panelist at the 29th Annual Information Exchange in Orlando, Florida. Originators, servicers and strategic business partners of Lender Processing Services will be in attendance at this invitation-only event to participate in instructive breakout sessions and an interactive solutions expo.
NAMFS will be sitting as a panelist in one of these breakout sessions, entitled "Community Outreach: Communication, Collaboration and Education -- Working with Code Enforcement and HOA's to Reduce Risk." As a provider of an industry resource in this area, NAMFS is uniquely positioned to speak as an independent voice regarding the benefits to opening the lines of communication between the field service and code enforcement communities. The Association will also be providing a brief overview of the benefits of ALLIANCE - The NAMFS Code Enforcement Solution along with a demonstration of the solution in action.
Since releasing ALLIANCE in May 2011, NAMFS has completed three rounds of enhancements designed to increase the reach of the program while simultaneously improving the user experience. Last month, NAMFS released ALLIANCE 2.0 with several key updates including:
Enhanced data collection through bulk upload and capture of property registration information
Improved communication via customizable, automated email options
Increased exposure of reported violations as a result of communication of unclaimed properties to national field service companies outside of the ALLIANCE participation roster
Today, the solution reaches over 20 national field service providers and over 800 unique municipalities. Field service providers receiving information from ALLIANCE include:
America's Infomart
CoreLogic Field Services
Field Assets
LPS Field Services
Mortgage Contracting Services
MSI
Spectrum Field Services
White Van Real Estate
Miles Preservation
Kazork ~ Transparent Real Estate
Safeguard Properties
Bank of America Field Services
Five Brothers
National Field Representatives
Assurant
M&M Mortgage
Miken Construction
Integrated Mortgage Solutions
A2Z Field Services
Altasource
3Point Lender Services
Cyprexx
To date ~3900 violations have been entered into ALLIANCE for resolution. One of the most important features of ALLIANCE is the ability to identify the blight issues of most concern in our communities. As expected, the vast majority of entered complaints centered on yard maintenance at 40% and debris at 21%. Concerns related to pools came in with 9% of the entries followed by lack of securing at 6%, structural integrity issues at 5% and broken windows at 4%. Demolition notices, graffiti concerns and illegal conversion findings all came in with less than 1% of the entries with the rest of the entries falling into the "Other" category. This data can be used by field service providers to educate servicers as well as others in the industry on the need for heightened awareness in these areas.
NAMFS continues to be committed to improving the relationship and communication flow between the field service industry and the code enforcement community. The Association looks forward to a successful presentation in Orlando and will continue outreach to code enforcement officials through other industry events throughout the year.
About NAMFS
The National Association of Mortgage Field Services, Inc. (NAMFS) is the premier trade association for the mortgage field service industry. We are dedicated to working with all entities of the industry from the Government Agencies and investors that set policy to the contractors and inspectors that perform the work.