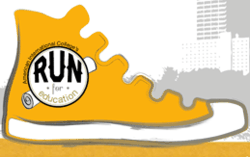 (PRWEB) April 13, 2012
American International College and the K-12 Teacher's Alliance present the Run for Education on June 10th, 2012. This 5k race highlights the great importance of our PreK-12 educators in both children's lives and in our communities.
The top three running teams will receive a cash prize, as well as a cash donation to the school of their choice.
The run is being held in Springfield, Massachusetts, beginning at the Springfield Court House and ending on campus at AIC.
Individual Running Prizes:
Top 3 male and female winners overall with matching prize awarded to the school of the runner's choice.
1st Place: $150 plus match
2nd Place: $100 plus match
3rd Place: $50 plus match
Team Prizes:
Three fastest runners on a team determine the team's cumulative time.
1st Place: $500 prize for the team and $2500 awarded to their school
2nd Place: $250 prize for the team and $250 awarded to their school
3rd Place: $150 prize for the team and $150 awarded to their school
Online registration closes Monday, June 04, 2012 at 5:00 PM ET. There is a registration fee of $50 to cover a team of 3-5 runners.
Check out the Run for Education 5K flier for more details.
To register or obtain more information, please visit http://www.aic.edu/run.
About the K-12 Teachers Alliance
The K-12 Teachers Alliance is dedicated to meeting the needs of teachers, principals, and the students they serve. It is the mission of K-12 Teachers Alliance to help educators and students overcome the diverse challenges to achieve success in and outside the classroom.