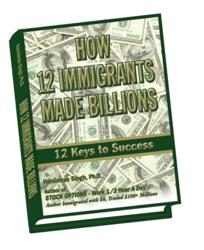 A successful attitude is a state of mind which must be maintained through hope, courage, enthusiasm and self-esteem
Oyster Bay, NY (PRWEB) April 22, 2012
Learn secrets to making money from an immigrant who migrated to the USA with a total of $8 and is now ranked #1 when one Googles, "Rich Immigrants."
The following are some extracts from Dr. Harsimran Singh's book, "How 12 Immigrants Made Billions-12 Keys to Success".
Dr.Singh, author and motivational speaker, says "it is necessary to have faith in knowledge and keenly directed passion to maintain enthusiasm and persevere at all cost."
The author explaining the role of attitude, says, "Always listen to what is being said and remain open to free advice being given. Path to success should always be progressive, ability of an individual to remain confident and positive will serve vital in approaching other keys, such as creating opportunity through open-mindedness. If a person is positive, one will be more receptive to others."
Focusing on obstacles, Dr.Singh writes, "sustained positivity and open-mindedness should aid in path to success as well as increase ability to utilize and manipulate the world, the information at fingertips and in books, and enable people to look where they previously wouldn't, inside themselves."
Success, to an extent, is connected with ability and willingness of an individual to manipulate any and all resources. Every day that a person is alert, at work, or otherwise out-and-about, one should be looking to expand one's resources. This includes networking, finding contacts, introducing self to strangers, and researching what others have done in their path to success.
Everyone knows that the repetition of the same methods, which despite negative results in previous trials is still repeated, is the definition of insanity. Dr.Singh adds saying, "The ability to embrace and adapt to change puts an individual at an advantage in the likes of sustaining their positive potential and increases their overall grasp on success as a concept."
One must take the opportunity to use the barriers in one's life to their advantage. Always staying positive, a person can overcome any feat and find their way around, over, and through barriers.
Dr.Singh writes, "ability and skill of people to create their own good luck through hard work and dedication should support them while obstacles tumble, opportunity is created, and successes are made."
About the author:
Dr.Harsimran Singh is a philanthropist who gave up millions of dollars for the establishment of charitable institutions and moved thousands of homeless people into decent housing. He has been featured in Fox News, CBS, many other TV and radio programs. The NY Times, NY Post and many other newspapers wrote full page articles on his rags to riches story. He has authored 13 inspirational books. Writing these books has been his way to give back to the people of America where he landed with almost nothing.