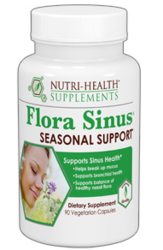 Flora Sinus has dramatically changed the way those looking for a natural solution manage their sinus issues.
Cottonwood, AZ (PRWEB) April 17, 2012
With Spring approaching, Nutri-Health Supplements' (http://www.nutri-health.com) exclusive probiotic and antioxidant supplement formula, Flora Sinus®, is changing the way sinus sufferers tackle nasal congestion and sinus complaints with a 100% natural blend of immune-supportive and mucus-thinning ingredients.
"This is the season of suffering for so many with nasal and sinus issues," says Michael Lee, Product Development Director for Nutri-Health. "You aren't sick but you are definitely stuffed up. The air is suddenly full of irritants and the sinuses react with a drastic increase in mucus."
Lee emphasizes that a mucus increase is a normal reaction to irritants and adds it is critical that mucus stay fluid and free-flowing to help flush irritants out of the nasal passages. "This is where sinus sufferers make a critical misstep," says Lee. "The common remedy is to dry up nasal mucus, but this approach tends to leave mucus and irritants trapped in your sinuses."
Nutri-Health's Flora Sinus takes the opposite approach. A key antioxidant in the formula, N-Acetyl Cysteine (NAC), helps break up sticky or dry mucus to allow it to flow naturally, flush out irritants, and relieve sinus pressure. NAC has long been used as a potent detoxifier and mucus-busting ingredient.
In addition to targeting a major complaint for sinus sufferers—trapped mucus—Flora Sinus also addresses the important nasal microflora balance with four selected probiotics based on a successful Swiss clinical study. Researchers Ulrich Gluck and Jan-Olaf Gebbers found that probiotics, when taken together orally, helped support the normal balance of microflora, or positive immune microbes, in the nasal sinuses.
"Flora Sinus is currently the only product available with NAC, plus researched-based probiotics," says Lee. "Stuffy sinuses get the mucus breakdown benefits of NAC plus the balancing benefits of the probiotics."
Flora Sinus offers seasonal sinus support by:

Breaking up mucus with NAC to relieve stuffy sinuses and allow better drainage
Helping flush out nasal irritants with a healthy mucus flow
Supporting a balanced nasal immune response with 4 clinically-based probiotics, B. bifidum, L. acidophilus, L. rhamnosus, and S. thermophilus
Because Flora Sinus contains clinically supported, 100% natural ingredients, it can be taken daily for seasonal and year-round support.
"Flora Sinus has dramatically changed the way those looking for a natural solution manage their sinus issues," says Lee.
Nutri-Health Supplements has made new ingredient technology, expert nutrient blends, and current consumer health concerns their company focus for over 20 years. Nutri-Health is committed to bringing innovative nutraceuticals backed by clinically researched ingredients to the marketplace. For more information on Nutri-Health's Flora Sinus or additional products, visit http://www.nutri-health.com or contact Nutri-Health by phone at 1-800-914-6311.