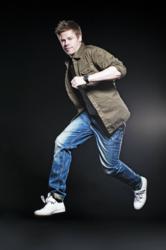 New York, NY (PRWEB) April 13, 2012
Ferry Corsten's broadcast celebrating the 250th episode of his "Corsten's Countdown" radio show (Twitter hashtag "#CC250") became a worldwide top-trending topic on Twitter during the marathon eight-hour live worldwide broadcast beamed out from the studios of SiriusXM Radio in New York on April 11th, 2012.
Hundreds-of-thousands of listeners tuned-in from around the world, including from North America, the UK, Russia and South America. The weekly Corsten's Countdown interactive radio show airs exclusively on SiriusXM Radio in the U.S., in addition to airing in more than 50 other countries around the world. Corsten's Countdown is a chart show where listeners vote for their favorite tracks. During the benchmark 250th live broadcast, listeners from around the world could go online to http://www.corstenscountdown.com to vote in real time for their favorite tracks.
During the CC250 broadcast, Corsten's Countdown thrice became a Twitter worldwide top-trending topic with the airing of Armin van Buuren's single, "Suddenly Summer," and twice with the airing of Ferry Corsten's single featuring Betsie Larkin, "Made Of Love." Additionally, CC250 became a trending topic in Russia and Los Angeles that evening.
The eight-hour live interactive show broadcast from SiriusXM in New York City received nearly 10,000 requests leading up to the show. With requests for artists including, Tiësto, Swedish House Mafia, Avicii, David Guetta, Skrillex and many more, Ferry Corsten had a tough time choosing tracks. Corsten said, "There were just too many great tracks to choose from! I wish I'd had 24 hours to play all the requests, instead of eight." The CC250 broadcast also included live callers such as, Paul van Dyk, Nicky Romero, Aruna, Markus Schulz and Armin van Buuren. Singer Betsie Larkin also performed two songs live from the studio during the broadcast.
In the final hour of the broadcast, the top 10 tracks as chosen by listeners from around the world were announced and the tracks played, from number-10 upwards to number-one. This top 10 list was determined by CC250 listeners logging-in from around the world to vote:
Ranking, Artist, Track
1, Markus Schulz & Ferry Corsten, Loops & Tings*
2, Ferry Corsten ft Betsie Larkin, Made Of Love
3, BT, The Force Of Gravity (Ferry Corsten Bootleg Mix)
4, Delerium ft Sarah McLachlan, Silence (Tiësto's In Search Of Sunrise Remix)
5, Ferry Corsten, Beautiful
6, Gouryella, Ligaya
7, Ferry Corsten vs Armin van Buuren, Brute (Armin Illegal Drum Edit)
8, William Orbit, Barber's Adagio For Strings (Ferry Corsten Remix)
9, Armin van Buuren ft Ana Criado, Suddenly Summer
10, Heatbeat, Rocker Monster (Original Mix)
*Worldwide exclusive debut
The CC250 broadcast will be re-aired on SiriusXM Radio. For rebroadcast times and other information, contact EMILY TAN Media Relations at +1(917) 318-3758, EmilyEmilyTan(at)aol(dot)com, and visit http://www.corstenscountdown.com and http://www.ferrycorsten.com.
# # #