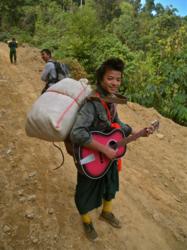 A different kind of trip that breaks away from the traditional tourist centers.
Ann Arbor, MI (PRWEB) April 12, 2012
JOURNEYS International's Trek to the Last Village in Burma (Myanmar) has been selected by National Geographic Traveler for a 2012 "Tours of a Lifetime Award" as announced in the May issue of the publication. JOURNEYS, an ecotourism company founded in 1978, has been a consistent recipient of the award over the seven years it has been given. The honor is awarded to tour operators for various categories of travel.
In 2011 JOURNEYS won for their "Apes, Arts and Dragons" tour in Indonesia, a program featuring encounters with Orangutans, Komodo Dragons, and the distinctive cultures and natural history of Java, Bali, Borneo and the Komodo Island area. That trip operates with multiple departures each summer.
This year's award-winning trip is an adventurous, ten-day, hiking and cross-cultural trek in far northern Burma to the base of the easternmost portion of the Himalayan Range. Working with their namesake operator in Burma, JOURNEYS Nature and Culture Explorations, small groups of participants, accompanied by a cook, porters and multilingual local guides hike through valleys, foothills and virgin forests and stay in local villages in the Putao region of Burma. The trip can also be combined with more conventional sightseeing extensions to famous sites like Bagan, Mandalay, Inle Lake and the Yangon area.
"With the positive political news and growing traveler interest in Burma we felt a need for a different kind of trip that breaks away from the traditional tourist centers," say Will Weber, founder of JOURNEYS International. " This is a trip to meet the tribal peoples of northern Burma who have had very little contact with Westerners before this, but who are very friendly and welcoming."
Weber and JOURNEYS have a long history of working with small private operators in Burma in offering travel that avoided government services and military obstacles to cross-cultural travel.
"The situation there is now much different," says Weber who led a group on a "Last Village Trek" last year. "People feel free to speak openly and there are no restrictions on whom we speak with and no sense of overbearing military or police presence. The problem Burmese have now is managing growth and the rush of development interest that has followed in the wake of political and economic liberalization."
The Trek to the Last Village, however, in extreme northern Burma is not likely to see economic development or a big tourist influx soon. For much of the year the region can only be reached by air. The best season for travel in the area is November through May. JOURNEYS has offered a variety of group, customized and independent tour and travel arrangements in Burma since 1986. Travelers interested in visiting other areas of Burma should be aware that the expected ending of US government sanctions has meant advance reservations are essential for still-limited accommodations and services.
About JOURNEYS INTERNATIONAL:
JOURNEYS INTERNATIONAL of Ann Arbor, Michigan, is the longest standing family-owned global ecotourism company in the US. JOURNEYS offers full-service exotic, guided cross-cultural explorations, nature safaris, treks and eco-tours in remote corners of Asia, Africa, the Americas and the Pacific. Founded by current directors Will and Joan Weber in 1978, JOURNEYS boasts an extraordinary record of client and staff satisfaction and several industry awards.