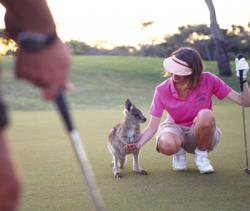 Chicago, IL (PRWEB) April 13, 2012
Sure, it's an old playground retort -- but it's also the foundation for attracting golfers to use Down Under Endeavours as their travel agent for luxurious golf trips to Australia and New Zealand. Their trips are designed by golfers for golfers – but as they say, how well you play is up to you!
Corinne Goodman, the founder and owner of the Down Under Endeavours hails from a small town in the outback of Australia, Corinne's background involves working with the family at nearby farms and lots of golf – after all her Dad has caddied in the British and US Open for Aussie golfer Rodger Davis, and at 64, his handicap is 1.
When she turned 21, she took a job with Tourism Australia and was transferred to Chicago. In Chicago, she represented tourism interests for her home country and then founded her company, Down Under Endeavours. Nearly fourteen years later, her company has grown to seven employees who spend their days booking once-in-a-lifetime trips to her home country Australia as well as New Zealand, Tahiti and South Africa.
Anyone can go on the internet and search "golf in Australia" but it takes a keen knowledge of courses, local golf professionals and fun side trips to make a custom-made golf vacation truly special for each traveler – that's what Corinne and her team do every day.
Avid golfers are looking for a new place to golf.
Recently the Presidents Cup was played at Royal Melbourne and interest in golfing in Australia and New Zealand has definitely increased. In these countries, golf travelers must have contacts at the clubs in order to play these highly ranked golf courses. By booking through Down Under Endeavours, golfers are guaranteed a spot to play these courses.
While each of their golfing vacations is hand-crafted, these two are samples of the types of trips they have put together in the past.
http://www.downunderendeavours.com/packages/australia-golf-vacation-package
http://www.downunderendeavours.com/packages/australia-new-zealand-golf-vacation-package
For more information or to schedule an interview with Corinne to get further information about our Down Under golfing vacations, please contact Shannon Bradley, PR and Marketing representative for Down Under Endeavours, sbradley(at)downunderendeavours(dot)com or 312-951-8517.