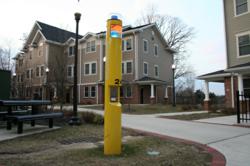 With a prepared mold removal product, one can minimize the effects of mold if ever it grows.
St Louis, MO (PRWEB) April 14, 2012
Mold is causing havoc in the East Coast. Rowan University townhouses are some of those badly affected by its presence. To resolve the problem, the university hired a contractor and an architectural engineer to check the contaminated student residences. However, for a safer and more affordable treatment, Mold-Removal.biz advised the use of an organic-based mold removal spray.
Rowan University got 113 townhouses. Reportedly, 109 of them were mold contaminated as it was said in NJ.com. However, recommendations to solve the problem was rejected by the university officials said Edward Knorr, the university's first hired contractor. He was even banned from the campus, he added.
The allegations though were denied by university spokesperson Joe Cardona. Contrary to what Knorr claimed, Cardona said that they are following the protocols Knorr laid out. However, they had to hire a new contractor for the clean-up a required by the "industry standards."
As per the banning, Cardona stated that they merely directed Knorr to stop telling students false statements about the mold problem. Allegedly, the replaced contractor told students that the mold contamination was endangering their and that the university is taking no action to resolve it.
Here's an excerpt of the report Mold Brings Trouble to Rowan University Townhouses from Mold-Removal.biz
"Rowan University townhouses are under siege. However, it's not by any military force but by mold. And as it should be, university officials are already taking actions to resolve the problem. However, the contractor who created a report about the mold presence claimed his suggestion was rejected by the university. Apart from that, he said he was blocked off the campus."
"Based on the report of Edward Knorr, the contractor hired and supposedly banned by the university, mold is present in 109 of 113 Rowan townhouses. Specifically, the fungi were widespread in the ventilation systems of the student residences."
Read more about Mold Contamination Discovered Rowan University Townhouses at: http://www.mold-removal.biz/rowan-university-townhouses-in-mold-attack.htm
Just as the townhouses at Rowan University, any place is susceptible to mold presence. But more so are the areas often exposed to moisture. Hence, to avoid mold, moisture level must be kept low. However, nobody can keep moisture off all the time. And so, it is best to have a mold removal spray said Mold-Removal.biz.
With a prepared mold removal product, one can minimize the effects of mold if ever it grows. That's because it allows an immediate removal of the fungi. Nonetheless, the site only recommends the use of safe mold removal products so as not to comprise the health of the user.
Get the best mold removal spray. Go to http://www.mold-removal.biz today.