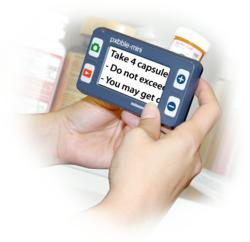 "I really enjoy how light the Pebble-mini is, it fits in my pocket and I can wear it around my neck when I'm shopping allowing me to see so much more!"
– Nancy Becker
Huntington Beach, CA (PRWEB) April 13, 2012
Enhanced Vision, America's leading manufacturer of magnifying solutions for the visually impaired, launched a powerful new lightweight hand-held device today that can bring affordable independence to the 15 Million+ Americans suffering from low vision conditions such as macular degeneration. At just $295 and weighing less than 4 ounces, "Pebble-mini" is an exciting new vision device that gives users the freedom to read menus, check price tags, write checks, and much more while on the go.
The Pebble features:
o Bright, 3.0" high resolution LCD display that magnifies words and objects from 2-10X the normal size
o Choice of 28 viewing modes
o "Freeze image" feature with capability to magnify and change modes
o Image capture with save and recall
o Adjustable brightness
o Charge with USB into outlet or pc and
o Protective pouch and neck strap
o Hands-free reading stand
o 2 year warranty
Currently, more than 15 million people in the United States are diagnosed with low vision conditions, such as Macular Degeneration which makes everyday activities like reading, writing, and ordering at restaurants a real challenge. And with America's aging population, this number is expected to double by 2020. Leading eye care specialists have discovered that video magnification is a solution for these individuals to regain and maintain their independence.
"With the Pebble-mini, we're giving people the confidence to do everyday activities again with a single, simple device," said Barron Javaheri, President at Enhanced Vision. "Instead of carrying around multiple magnifiers, Pebble-mini adapts to a wide range of situations, so it grows as a user's condition changes. And at a price that's hundreds of dollars less than competing products, it's the ideal solution at this challenging time."
For more information about Enhanced Vision and its products, please call
(888) 811-3161 or visit http://www.enhancedvision.com.
About Enhanced Vision
Enhanced Vision is the leading developer of innovative products designed specifically for people who are legally blind and have macular degeneration and other low-vision conditions. The company offers the most comprehensive line of electronic magnifying solutions and has helped thousands of people regain their visual independence by providing the ability to read, write, watch TV, enjoy a play and live again. Headquartered in Huntington Beach, Calif., Enhanced Vision products are available in more than 70 countries worldwide. For more information, please call (888) 811-3161
or visit http://www.enhancedvision.com.