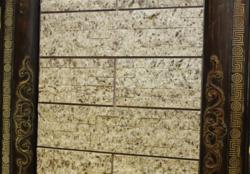 A first, for Repurposed Vertical Stone cladding
Nashville, TN (PRWEB) April 15, 2012
Using the Tomahawk Stone Splitter on waste stone opens a whole new market for Designers and Architects utilizing natural stone applications. The new concept of veneer stone tiles is unique and makes the installation process so much easier. Louwrens Mulder the innovator of the Tomahawk Stone Splitter, will be demonstrating the process at the Coverings Show in Orlando. He will be at the Braxton Bragg booth and invite entrepreneurs to witness the ease of installation with his veneer stone tiles.
The Tomahawk has a high capacity of up to 100 square feet per hour for pavers, and 20 sq. ft p/h for Split Stone Tiles. The Tomahawk is a solid investment for anyone that wants to create additional revenue from waste stone.
Waste to Value Stone has sparked the idea of the veneer tiles through innovation with simplicity as the focus. This applies also to the equipment developed that will enable the entrepreneur and the stone fabricator to create a series of recycled stone products with legislation demanding more and more recycled material in building projects.