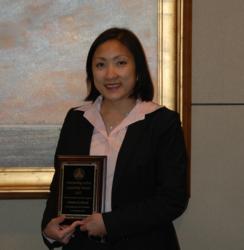 Hampton Roads, VA (PRWEB) April 16, 2012
Williams Mullen is pleased to announce that Christine N. Piersall has received the 2011 Outstanding Lefcoe Leadership Award from the Portsmouth Partnership.
The Vann H. Lefcoe Leadership Development Foundation was established in 1997 to identify, educate and encourage future leaders within the City of Portsmouth. By inspiring civic awareness, responsibility, and pride within the emerging leadership corps, the program provides the City of Portsmouth with a succession of leaders to ensure a bright and prosperous future for both the city and the region.
Each year, the Portsmouth Partnership selects a graduate of the Lefcoe Leadership Development Program who has fulfilled these criteria. As stated by Betty Jo Gwaltney, Executive Director of the Portsmouth Partnership,"Christine is a very worthy recipient of this award." Ms. Piersall was selected for this honor for her community service, including her outstanding pro bono work which focuses on assisting seniors and at-risk women with life planning documents. She serves on several boards, including the Portsmouth Partnership, the Portsmouth Service League and the Portsmouth Museum Foundation.
Ms. Piersall is a partner with the law firm of Williams Mullen. In her law practice, she focuses primarily on estate tax planning, estate and trust taxation and administration and elder law. Ms. Piersall has experience with conservator and guardianship matters, family limited partnerships and business succession planning. She also represents clients in commercial banking and real estate matters.
# #
About Williams Mullen
Williams Mullen provides comprehensive legal and government relations services that help grow the business of our clients and the economy of our region across North Carolina, Virginia and Washington, D.C. As an AmLaw 200 firm, our attorneys and consultants strive to deliver solutions that help clients go where they want to grow. Putting our clients' needs first has been the foundation of our approach since the firm was founded 103 years ago. Visit us at http://www.williamsmullen.com.