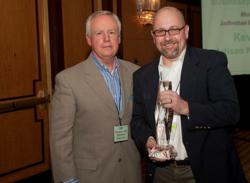 Atlanta, GA (PRWEB) April 19, 2012
March 30, 2012, Kevin Telaak was recognized for his company's outstanding support of SEN Preferred Vendors, his 2011 record of high business achievement, and his commendable business practices. His firm increased their material purchases from SEN Preferred Vendors by 203% and achieved a national ranking of 2nd within the group. Much of this splendid increase was with Medallion Cabinetry as a replacement for a cabinet line that had resigned as SEN Preferred Vendor. "Your example of navigating your business to profitability and overall excellence during a n anemic economic recovery is now the model for others to emulate," commented Peterson in presenting Mr. Telaak with a handsome trophy, a $500 check, free tuition at a SEN Business School (a $950 value), and a free 2-page spread in Signature Kitchens & Baths magazine (a $2,100 value).
The award is named in honor of Peterson's father who made some notable contributions to the kitchen and bath industry during his 30-year career. M. A. Peterson helped establish NKBA in 1963, served on its Board of Directors for many years, was honored as the world's first Certified Kitchen Designer, and inducted into the Industry Hall Of Fame in 1988 - its inaugural year. The SEN Design Group makes this award annually in memory of M. A. Peterson who died in March, 1997.
Other special honors for 2011 outstanding performances at the SEN Awards Luncheon went to the following:
Gregg & Dawn Mueller, owners of M & M Cabinetry of Naples, FL, recognized as the Best
Design Studio Businessperson. His firm achieved a 197% increase in Member Purchases
of Preferred Vendor products, worked hard at improving its marketing and management
expertise, and consistently followed sound business practices.

Plus Closets, Daltile, and Dura Supreme for winning Vendor of the Year Awards. All three
companies demonstrated strong support of SEN programs and goals while achieving sales
growth with the group in 2011.

Don Jessup, owner of McDaniels Kitchen & Bath of Lansing, MI honored as Newcomer of
the Year for adding nearly $300,000 in Member Purchase value to the group.

Michele Ward, Customer Service Manager of Corporate Sales with The Stock Market,
presented with the second Jeanne Owen Award, sponsored by Kabinart, for her dedicated
effort, professional efficiency, and positive can-do attitude that substantially impacted her
company's growth and profitability.

Bruce Bauerle, CKD (Five Star Kitchens of Valley Stream, NY); Neina Sherman (R. K.
Miles of Manchester Center, VT); Sheldon Eike (Select Interiors, Inc. of Parker, CO); Evelyn
Nicely (Nicely Done Kitchens of Springfield, VA); Dan Luck (Bella Domicile of Madison,
WI); Kevin Telaak (Artisan Kitchens & Baths of Buffalo, NY); and Larry Lowenthal (Gilman
Kitchens and Baths of San Francisco, CA) all recognized for being among Top Ten in 2011
Member Purchases. Lowenthal was ranked first with over $1.6M in Member Purchases – a
14% increase over his 2010 performance which also garnered him the top spot within the
group.
The SEN Design Group, based in Chapel Hill, NC, has over 200 kitchen and bath member firms from coast to coast. There are over 130 vendors in cabinetry, appliances, plumbing fixtures, lighting, decorative hardware, tile, flooring, accessories, and bathroom products affiliated with SEN that make their products available to the members at group buying rates, including volume rebates based upon the group's sales performance. They also receive business management training, networking opportunities, automated management system and have access to business coaching services, showroom design services, peer counseling at roundtables, financial comparison reports, sales training, and marketing tools that all help to furnish superior customer service while bettering their bottom lines. For more information, please contact Ken Peterson, CKD at 800-991-1711 (Fax: 919-933-6648 E-mail: kpeterson@sendesign.com)