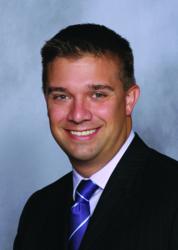 I have the privilege of working with an amazing group of young, eager advisors.
Phoenix, AZ (PRWEB) April 17, 2012
Mark Bonnett, North Star Resource Group Vice President and Field Director, was presented with GAMA International's Brian Early Front Line Excellence Award for outstanding leadership. Bonnett, who is based in North Star's Phoenix office, is affiliated with the Securian Financial Network.
GAMA International created the Brian Early Front Line Excellence Award to recognize front line leaders in the insurance, investment and financial services industry who excel at recruiting, training and sales management. Bonnett, who received his award in March at GAMA International's annual conference in Orlando, was named Securian's Diamond Field Director in 2010 and 2011.
"The Brian Early award is extra special because I had the pleasure to work with Brian on several GAMA initiatives," said Mark, referring to the Northwestern Mutual Managing Partner and GAMA board member who died in a 2007 plane crash. "Brian stressed the importance of protecting our industry for future generations. That is why I am committed to hiring and training inexperienced advisors, the future of our industry.
"I have the privilege of working with an amazing group of people. Not one of them is over 33 years of age. It's a young, eager group of advisors that is making a name for themselves in this industry," said Mark, who began working with GAMA leadership in 2006 and was elected to the GAMA Board of Directors in 2010.
In addition to GAMA International, Mark is an active member of Million Dollar Round Table and the National Association of Insurance and Financial Advisors. He also is a frequent speaker on financial topics in Arizona and surrounding states.
About North Star Resource Group
North Star Resource Group is a Minneapolis-based financial services firm that helps individuals and businesses create, preserve and protect their wealth. The firm has offices in twelve states, and through its 200 financial advisors work to provide financial security for individuals and businesses in the form of fee-based financial planning, life and disability insurance, retirement strategies, investments, long-term care and employee benefits. North Star Resource Group is ranked the 3rd largest privately held financial services firm in the nation, (GAMA International, December 2010). For more information, visit http://www.northstarfinancial.com.
The Securian Financial Network, the marketing name for the sales and distribution arm of Securian Financial Group, Inc., its subsidiaries and affiliates, is a nationwide network of financial services firms. Products and services are offered and sold only by appropriately licensed entities and financial representatives.
CRI Securities, LLC - Securities and Investments | Securian Financial Services, Inc. – Variable Products and Securities, North Star Resource Group offers securities and investment advisory services through CRI Securities, LLC and Securian Financial Services, Inc., Members FINRA/SIPC. CRI Securities, LLC is affiliated with Securian Financial Services, Inc. North Star Resource Group is independently owned and operated. 2701 University Avenue SE, Minneapolis, MN 55414. 612-617-6000. 487842 /DOFU 4-2012