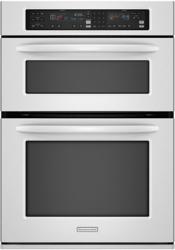 Atlanta, Georgia (PRWEB) April 25, 2012
10Rate reviewers and staff selected 10 of the best 24" and 27" wall ovens for 2012, assigning each a numerical rating as well as awarding three models that stood out for quality, value, and budget. Testing and consideration for this Wall Ovens Top 10 list were given based on the following set of seven criteria:
1. Ease of cleaning
2. Capacity
3. Adjustable racks
4. Style
5. Ease of programming
6. Fast, even baking
7. Convection baking with automatic time conversion
The annual Best Wall Ovens 2012 awards list was headed by the Thermador MED272ES, winning the Best Quality spot and a near flawless 9.5 out of 10 rating. The review noted several strengths of the double electric wall oven as follows: "Six adjustable rack levels give you plenty of options for fitting in various dishes, too. You won't be disappointed by the oven's performance either. Preheating takes no more than seven minutes, and speed convection baking in both ovens leaves food with a satisfying crunchy exterior and juicy interior. The oven's pricey at $3,999, but it's built to save you time and energy in the long run."
10rate's editors also gave the Best Value Wall Oven award to the Whirlpool GBD279PV. With a rating of 9 out of 10, the review boasted, "This electric double wall oven from Whirlpool features a sophisticated, modern style with a clean exterior. The two ovens are wide and have smooth finishes inside, making them easy to wipe clean. Being able to customize your broil temperature is a handy feature; you can select the broil temperature in increments of 5 degrees Fahrenheit. Also, the automatic convection conversion feature takes all the baking guesswork out of the picture—you can simply program the usual cooking time and the oven converts it to the appropriate convection time."
Additionally, the Best Budget award from the Top 10 Best Wall Ovens list went to the Frigidaire FGB24L2AS Single Gas Wall Oven, for which 10rate noted, "It's a basic, no frills oven, which also means it's more affordable at $704.65. For being so inexpensive, its performance is still enviable. Although there is no convection baking, the oven heats up quickly and cooks food evenly. A nice feature is the separate broiler tray, which makes broiling meals easy and mess free."
GE, Frigidaire, Fagor, and KitchenAid were all featured for two models each in 10rate's Wall Oven Reviews. Prominently position in the number two spot for overall rating, the GE Profile Review for the PK956DR Electric Double Wall Oven had this to say for its 9 out of 10 rating: "The two ovens, one of them convection, each have 3.8 cu. ft. capacity, giving you plenty of space to bake large roasts and multiple dishes at a time. The convection fan is nearly flush with the back wall, so it doesn't take away space from large baking pans. The self-cleaning feature is always a plus; additionally, with a hidden heating element, food won't get trapped in hard-to-reach recesses."
10rate.com conducts reviews in various product and services categories and publishes "Expert Top 10 Lists for Everything in your life." The company's web site strives to "Make it Easy" to select from the hundreds of choices there are in the product and service market place. All products and services are thoroughly researched by the company's expert editors prior to receiving a rating on a 1-10 scale. In addition to product reviews the company's editors write guidelines, buying guides and articles on various topics surrounding each product or service category covered to help educate the consumer.