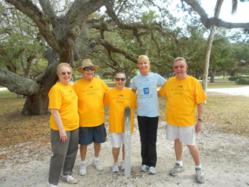 Our goal is to offer Members an environment where they can improve their health and independence...
Vero Beach, FL (PRWEB) April 14, 2012
The Lakes at Pointe West, a retirement community located in Vero Beach, Fla., announced today that the community is expanding to add a fully integrated Wellness Department. Dawn Johnting Midelis has been promoted to the position of Wellness Director and will oversee the newly created department which houses the community's nationally recognized wellness program.
Executive Director Karen McHenry says the community will hire an additional wellness associate and add new programs for Members into the existing schedule to boost participation during the week and on weekends. McHenry says the expansion is the result of a growing demand for solutions to high-cost clinical care which older adults may need later in life.
"We have found that by using tailored wellness programs we can substantially improve the quality and length of our Members' lives," she said. "Our goal is to offer Members an environment where they can improve their health and independence while potentially preventing a move to skilled nursing in the future."
Although The Lakes offers assisted living and Alzheimer's care services as well as independent living options, McHenry says the community's Wellness Department houses programs that are appropriate for older adults with a varying degree of needs.
"One example is our aquatic therapy program for residents with memory impairment that has been shown to reduce anxiety, improve sleeping patterns and also reduce the number of medications resident are currently taking," says McHenry. "We're not saying clinical solutions aren't needed – we're just saying there may be a way to combine clinical and wellness solutions so that our residents achieve better outcomes."
In addition to the aquatic therapy program, Wellness Director Midelis will oversee the expansion of additional targeted wellness programs in healthcare including interventions focused on improving outcomes associated with fractures or orthopedic replacements, heart failure, C.O.P.D., diabetes, arthritis and Parkinson's disease, to name a few.
Midelis will also continue to emphasize and create prevention-oriented programming for the community's independent living members who want to improve their health while also reducing their chances of suffering a negative health event in the future.
In 2010 and 2011, the Assisted Living Federation of America named The Lakes' wellness program the best Clinical Wellness program in the country.
About The Lakes at Pointe West
The Lakes at Pointe West is an all-inclusive, luxury retirement community located in Vero Beach, Fla. The community's care-free lifestyle helps members live longer, healthier and happier lives by offering an array of amenities including maintenance-free living, daily fine dining, weekly housekeeping, a nationally recognized wellness program and on-site health services. Members can choose from a variety of floor plans including single-family cottage homes and villa apartment homes. Assisted-living and memory-care rooms are also available for those who need to make a transition from independent living. More information about The Lakes at Pointe West is located at http://www.Pointe-West.com.