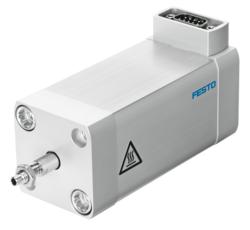 Hauppauge, NY (PRWEB) April 16, 2012
The just introduced Festo ADNE-LAS short stroke cylinder is optimized for dynamic movements between two end positions. In short cycle times of just 64 milliseconds (frequency of up to 13.6 Hz), it can execute a motion cycle with advance and retract strokes of .6 inches (15mm).
This ready-to-install system is suitable for applications that require dynamic motion without positioning, such as ejecting work pieces, blocking motions, or actuating effectors. The electric cylinder applies a constant force across the entire stroke and is available with a stroke range of up to 1.8 inches (45mm).
This electric short-stroke cylinder is thus exactly the right actuator for attaching labels in the packaging industry or in small parts assembly to press small parts into place for spot welding or for checking buttons in test machines.
The ready-to-install system consisting of an electric short stroke cylinder ADNE-LAS and drive CMFL makes commissioning fast and simple. Programming knowledge is not required – one of the four motion cycles can be selected and a start signal applied to execute the desired movement.
With a protection class IP 65, the CMFL drive can be installed directly in the application. The strong magnetic shielding prevents the penetration of ferrous components and machining chips. For sales information, call Festo at 800-993-3786 and visit http://www.festo.com/us. Follow us on Facebook, http://www.facebook.com/FestoUSA.