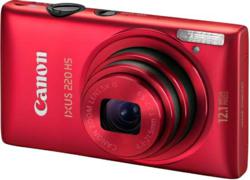 A lightweight, slim pocket camera with a selection of hot colors, this Sony digital camera is a highly satisfactory point and shoot model that takes sharp, bright photos.
Atlanta, Georgia (PRWEB) April 26, 2012
10Rate reviewers and staff selected 10 of the best compact cameras for 2012, assigning each a numerical rating as well as awarding three models that stood out for quality, value, and budget. Testing and consideration for this Compact Cameras Top 10 list were given based on the following set of eleven criteria:
1. Number of megapixels to produce sharp, detailed images
2. Optical zoom that doesn't degrade the picture quality
3. Lightweight, slim, portable design
4. Large and bright LCD preview screen
5. Easy-to-operate buttons and menu controls
6. Little to no lag between shots
7. Battery life and ease of recharging
8. Minimal noise or graininess in low-lighting shots
9. Various preset modes including an easy auto mode
10. Face recognition feature that optimizes focus and exposure for portrait shots
11. Value for the price
The annual Best Compact Camera 2012 awards list was headed by the GE X500-BK, winning the Best Quality spot and an enviable 9 out of 10 rating. The review noted several strengths of the 16 MP Digital Camera with optical zoom: "Its preset modes include the standard options plus special settings like fireworks, snow, and museum. The high dynamic range feature optimizes the exposure to restore color and vibrancy to light and dark shots. The panorama mode is a cool feature, as is the electronic viewfinder that helps you aim the camera just right. Overall, this bridge digital camera has a lot of great features for a low $138 price."
10rate's editors also gave the Best Value Compact Camera award to the Canon SX150 IS. With a rating of 8.5 out of 10, the review boasted, "A sturdy, durable compact, this Canon digital camera features a 3-inch LCD screen that lets you preview your images even in low light. We liked that the flash doesn't go off when you don't want it; you have to manually lift the flash up with your finger. Its 14.1 MP and 12x optical zoom produces sharp, clear pictures whether you're close up or far away from your subject. The dedicated movie button is another convenient feature, eliminating the hassle of searching through menus for the option to start shooting."
Additionally, the Best Budget award from the Top 10 Best Compact Cameras list went to the Sony DSC-W530 14.1 MP Digital Camera, for which 10rate noted, "A lightweight, slim pocket camera with a selection of hot colors, this Sony digital camera is a highly satisfactory point and shoot model that takes sharp, bright photos. We were amazed by the sweep panorama mode, which let us create a panoramic shot by pressing the button and sweeping the camera around. For a relatively inexpensive $89.99, this camera has enough special features to get a lot of versatile use from it."
Canon was the only brand featured for multiple models each in 10rate's Compact Camera Reviews. Prominently positioned in the number two spot for overall rating, the Panasonic Camera Review for the DMC-FH25K had this to say for its 9 out of 10 rating: "With 16.1 MP, this Panasonic digital camera produces amazingly sharp photos with minimal noise and blurriness in action shots. We liked the 70MB of built-in memory, which lets you take some pictures that you can later transfer to a memory card. With all the special features it offers, it doesn't take long to figure out all the controls and menus. … For $146.95, it's an impressive, sleek camera."
10rate.com conducts reviews in various product and services categories and publishes "Expert Top 10 Lists for Everything in your life." The company's web site strives to "Make it Easy" to select from the hundreds of choices there are in the product and service market place. All products and services are thoroughly researched by the company's expert editors prior to receiving a rating on a 1-10 scale. In addition to product reviews the company's editors write guidelines, buying guides and articles on various topics surrounding each product or service category covered to help educate the consumer.