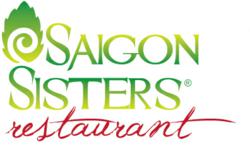 (PRWEB) April 12, 2012
May 20th and 21st will mark the first-ever NATO Summit to be held outside of Washington D.C. The city of Chicago and Saigon Sisters wish to welcome the many heads of state, dignitaries, and other international travellers travelling to our city for this historic occasion. Since 2009, The sister's booth at the French Market and their restaurant have been food ambassadors to Chicago, and they are excited to show their cuisine to the nations of NATO.
Saigon Sisters offers an elevated but approachable take on Vietnamese cuisine. They have lovingly crafted options for meat-eaters, vegetarians, and gluten-free diners available in every course. The lunch menu offers a selection of quick plates: bánh mì sandwiches like the Suntan Cow (Lemongrass Wagyu Beef, Coconut milk, kaffir lime leaf), several varieties of phở, chef-made spring rolls and other options offer a unique meal without sacrificing speed or quality. The dinner menu offers a more immersive sit-down experience. Starters range from Quinoa salads to Oxtail phở; main courses include Vietnamese classics like Lamb Luc Lac (Lamb tenderloin, oyster sauce, pickled red onions, arugula, French breakfast radishes, broken rice) or Tasmanian Sea Trout (served with mustard greens, rice paddy herbs, forbidden rice and kimchi broth). The extensive wine list features curated offerings from Kermit Lynch, and is tailored to provide the perfect pairing option for each dish and a variety of palates.
Whether you are visiting for only a short time or are planning an extended stay, Saigon Sisters encourages all visitors to make a visit to to try some of our local scene's best international cuisine. Make your reservations today!
Saigon Sisters
567 W. Lake St.
1-312-496-0090