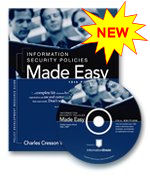 ISPME saves months of manual effort researching and developing information security policies.
Houston, TX (PRWEB) April 16, 2012
Information Shield today announced the latest update of their leading information security policy library, Information Security Policies Made Easy (ISPME) by Charles Cresson Wood. Version 12 has over 100 new pre-written security policies covering all aspects of information security; all mapped to the ISO 27002 international standard.
"Organizations are required to maintain written security policies to protect sensitive information and comply with state and Federal regulations," said David Lineman, President of Information Shield. "ISPME can save organizations thousands of dollars and hundreds of hours of manual effort in developing and maintaining written information security policies. Most organizations will see a return on their investment within one week of policy work."
For over 20 years, Information Security Policies Made Easy has been the gold-standard for pre-written information security policies, used by over 9000 organizations worldwide. This new version has over 100 new security policy templates covering the latest security topics such as mobile computing, email, software development, supply chain security, information disposal, incident response, social networking, outsourcing, espionage and many others. ISPME Policy Maps enable compliance with regulations such as HIPAA, PCI-DSS, NIST and Sarbanes-Oxley.
About Information Security Policies Made Easy
Information Security Policies Made Easy is thoroughly indexed and organized around the ISO-17799:2005 framework, and includes sample policies, commentary and valuable implementation advice on a wide range of security topics. ISPME version 12 contains:

A comprehensive library of over 1500 pre-written information security policies covering all 183 information security topics within the ISO 17799:2005 (ISO 27002) standard.
A complete policy-development tutorial based on the 25 year consulting experience of author Charles Cresson Wood, CISSP, CISM, CISA.
38 completely pre-written sample information security policy documents that every organization should have, covering essential topics such as email, network security, firewalls, data classification, internet use, telecommuting, and many others.
Time-saving policy development resources to help your organization get policies developed, approved and implemented quickly.
The information security policies within ISPME come in PDF and MS-Word format for easy search and customization, and include an organization-wide license to republish the material inside one organization. Organizations can sign up for the free Policy Solutions Newsletter and receive free sample policies from ISPME by visiting the company web site.
Along with its companion resource, Information Security Roles and Responsibilities Made Easy, these guides provide the best way for organizations to rapidly and economically document their critical information security functions and to demonstrate compliance with the standard of due care.
Keeping Written Security Policies Up to Date
Existing ISPME customers can easily upgrade to the new PolicyShield information security policy subscription service to help organizations stay up to date in near "real time". The PolicyShield Security Policy Subscription service provides written policies in response to the latest security incidents, technologies and regulatory changes.
About Information Shield
Information Shield provides information security policy, data privacy and security awareness products that enable customers to easily comply with data protection laws. Their flagship product, Information Security Policies Made Easy, has been. Headquartered in Houston, Texas, Information Shield's library of security publications have been used by over 10000 customers in 60 different countries. For more information, please visit http://www.informationshield.com or call 1.888.641.0500.