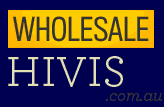 New York, New York (PRWEB) April 13, 2012
Wholesale Hi-Vis has been launched to take away the drama of going out and finding work wear clothes to suit your occupation. The new Hi-Vis website offers you the opportunity to browse through a whole range of Hi-Vis work wear items without even having to leave the comfort of your couch.
With items coming in many different styles for men and women at great quality prices you are sure to find something that will meet your needs.
Run by the same creator of Whole Blank T-shirts, the new Hi-Vis work wear site offers an easy purchasing system with fast Australia shipping.
"Our new Hi-Vis website runs exactly the same as Wholesale Blank t-shirts it just offers clothing for a different type of audience," notes wholesale creator Oren Davidson.
"Having the two websites just makes it easier to locate what you are after instead of cramming the work wear in with the other clothing and overcrowding the website."
"Our intention is to make work wear and wholesale shopping as simple as we can for those who don't enjoy it," he said.
The new website will sell everything from Hi-Vis t-shirts to Hi-Vis vests with all products meeting the correct Australian standards for daytime or night-time use.
Wholesale Hi-Vis stocks some of the greatest work wear brands including JB's Wear, Visitec, AIW and DNC Workwear.
The launch of the Hi-Vis website will be closely followed by the launch of a New Zealand based Wholesale Blank T-shirts. The NZ Site will be set up for those customers who have always missed out on purchasing great clothing from the Australian website. For now it will only revolve around selling the most popular Gildan products for kids, men and women but in the future as the client base grows so will the website content.
"As the business expands we may look at creating more Wholesale websites maybe for overseas and for different products other than wholesale clothing. For now though we are just focussed on getting these ones up and running and making what we have stand above the rest," Oren concludes.
For more information or to view our Wholesale Hi-Vis Website just visit http://www.wholesale-hivis.com.au