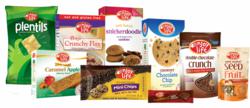 Our goal in 2012 is to grow our business by at least 40 percent through better merchandising and better brand awareness, as well as product innovation
Chicago, IL (PRWEB) April 13, 2012
Enjoy Life Foods continues to win accolades from both consumer and trade publications, and the latest one is coming from Consumer Goods Technology Magazine. Named one of nine standout small businesses making an impact in the industry, Enjoy Life Foods receives the honor alongside other standout consumer goods, among them Lindt chocolates and Happy Family baby foods.
The magazine describes Enjoy Life as "experts at leveraging fan power to the fullest with unmatched social and digital marketing strategies." The gluten-free and allergy-friendly food product company has had double digit growth in 2011, and released a number of new products and refreshed packaging at the annual Natural Products Expo West, the largest natural foods show in the world, in Anaheim, CA, this March. Their newest products, the lentil-based chip, Plentils, a Crunchy Flax with Chia Cereal, and Grab & Go snacks are already generating buzz online and in the grocery aisles.
"Our goal in 2012 is to grow our business by at least 40 percent through better merchandising and better brand awareness, as well as product innovation," says Enjoy Life Foods Chief Sales and Marketing Officer Joel Warady.
Enjoy Life also recently executed a complete packaging refresh of more than 32 products and has been an Inc 500/5000 winner consistently over the last six years. The company continues to receive raves for their savvy social media strategies in customer service and online marketing.
About Enjoy Life Foods
Enjoy Life Foods began as a class assignment; Company founder Scott Mandell wrote the company's business plan during his MBA program at Northwestern University's Kellogg School of Management. In 2001, Scott traded in his banker's suit for an apron, and Enjoy Life Foods was born. He began with the mission to create great-tasting, allergy-friendly snacks, and today the product line has grown to 40 different foods including cookies, granola, cereal, snack bars, seed and fruit mixes, chocolate bars, baking chocolate, and healthy lentil-based chips, all of which are sold in natural food, conventional grocery stores, and mass retailers throughout the U.S. and Canada, as well as specialty online retailers. In January 2006, the company was the first to receive independent gluten-free certification for all of its products from the Gluten Free Certification Organization (GFCO). Visit them online at http://www.enjoylifefoods.com, "like" them at http://www.facebook.com/enjoylifefoods or follow them on Twitter at http://www.twitter.com/ELFCeo. Visit their Media Center for additional marketing materials. Samples available upon request.
MEDIA CONTACT:
BREAD & BUTTER PUBLIC RELATIONS
Lindsey Reynolds
512.818.1052
lindsey(at)breadandbutterpr(dot)com